Concept art by North Kingdom (Robert Lindström & Mathias Lindgren). Deer by Mirada.
Three screenshots from the final work and the landingpage of ROME, everything made with webGL.
Read more about the project here and check out the huge making of article at our North Kingdom blog here. This post on Designchapel only concerns my involvement and my personal notes.
———
A couple of weeks ago we launched a little different project from North Kingdom called ROME, an interactive music video made in webGL from Google Chrome. To learn more about the technique you can read more at ROME technology site.
I wasn't so super involved myself unfortunately when it was the music director who was in charge of all the visual stuff. I only did some early concept drawings together with our 3D artist Mathias Lindgren and some design directions on the website. These pictures will I show here below.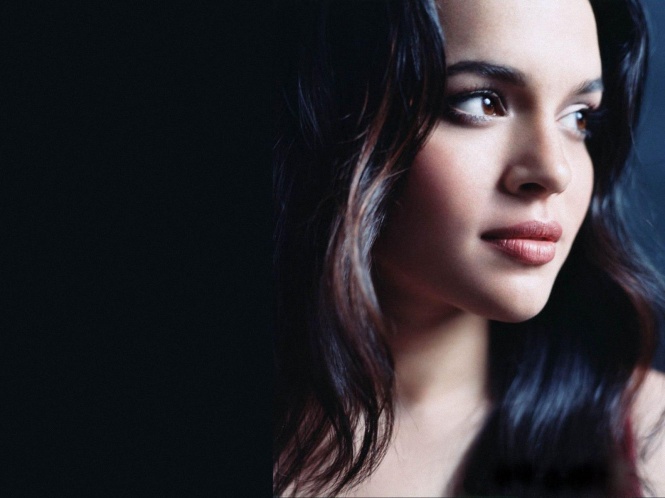 The beautifully Norah Jones, one of my favorites, is singing "3 Dreams of Black" in this interactive music video with Jack White from Danger Mouse & Daniele Luppi's album ROME.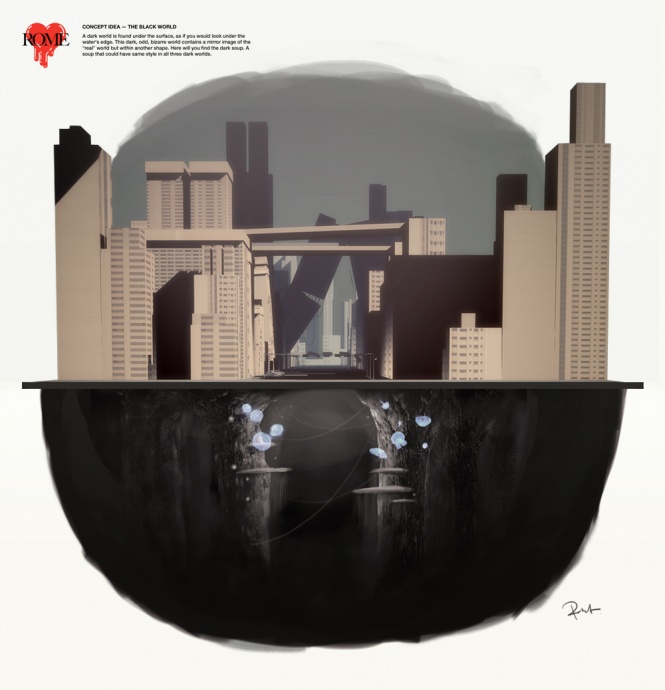 Some really early concept drawings. I had an idea of a mirror world underneath the surface, a more twisted version of the dream world.
"A dark world is found under the surface, as if you would look under the water's edge. This dark, odd, bizarre world contains a mirror image of the "real" world but within another shape. Here will you find the dark soup. A soup that could have same style in all three dark worlds."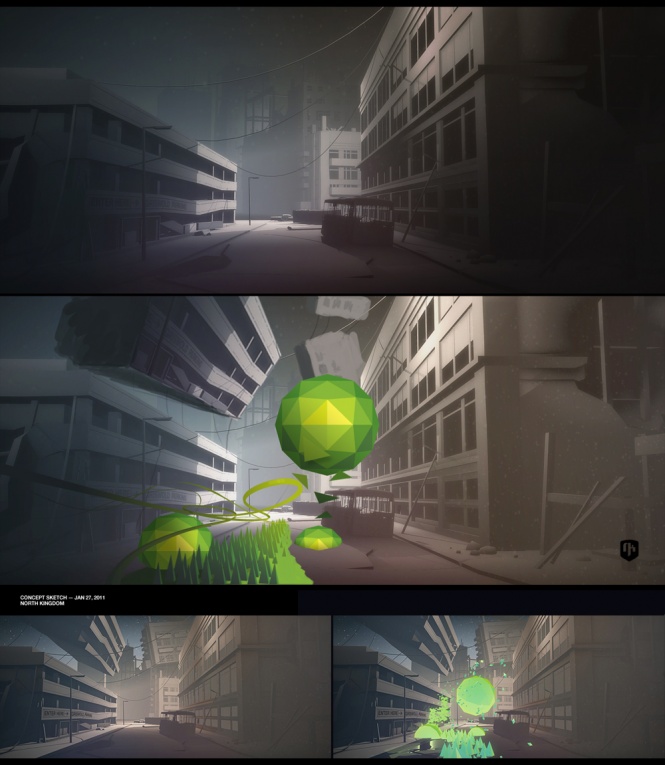 Just playing around with some visual ideas at one of the first renderings form Mathias of the city. My idea was to make a pretty minimalistic graphic solution, with the tech limitations in mind.

North Kingdom at Mirada, who would made what we called "the soup". It's Mathias who is sitting in the lower left corner, concentrating on his 3d. (Photo via iPhone4 and the apps Camera+ and AutoStitch)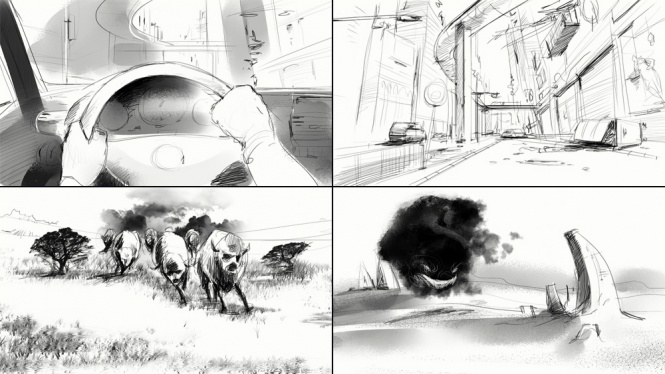 The first rough storyboard we did based on Chris Milk's vision by Anton Eriksson. The vision included three worlds; The City, The Landscape and The Dune.
Here below are some of the concept drawings Mathias and I did during a hectic week in the beginning of March in Los Angeles. We where only focusing to find the look and feel on the environments.
More concept pictures are found here.
BELOW: PART ONE — The city (deer by Mirada)
Some form exploration of the city. We know we had to think about the amount of polygons so we needed to keep stuff simple, specially when we didn't know at this time how much CPU the "soup" would take. Personally I wanted to add more graphic "dreamy" elements like the red eyes from the "big-mouth" tunnel.
PART TWO — The landscape.
This part was very tricky for us to play with. At this time we was just focusing on form exploration but at the same time the "logical" part of us told us to think about the CPU. Yes, webGL is very powerful but we knew the "soup" from Mirada had lot of amazing animations so even if we painted with brushes we know that this part would be more flat and polygon made later on.
PART THREE — The dune.
We only spent two days with the dune but I think we got a nice feeling of what it could be. The floating city, that was up and down, felt interesting.
More places we where sitting at this hectic week in Los Angeles. First one is from @Radical Media and the other from our hotel; Viceroy at Santa Monica. (Photos via iPhone4)
Art by Mirada — It's always easy to say afterwards what could be done different (specially in a "lab" project like this), but if had been in charge of the visual, I have definitely focused more on Miradas amazing work. I have never been so impressed by a design team as I was that week when I met art director Ram Bhat and his guys.
Check out the stunning Behind The Scene section for the "soup" by Mirada.
Here below are some shoots I took during the first week together in Los Angeles.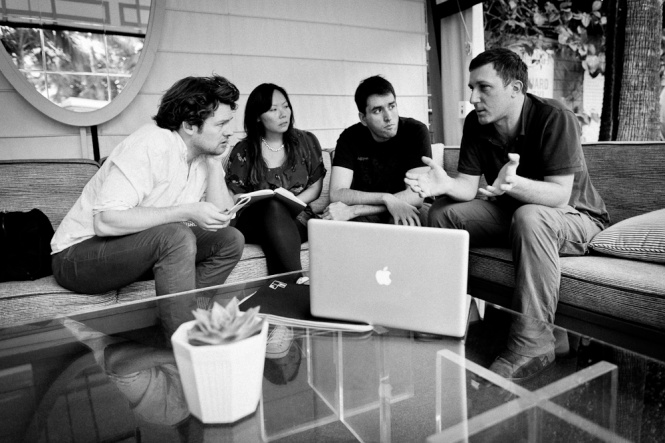 Tech meeting January 13th, 2011. Bartek Drozdz (Everyday3d) is explaining some ideas in front of Marcus Ivarsson (Producer, North Kingdom), Sandra Nam (Google) and Ricardo Cabello (Mr Doob).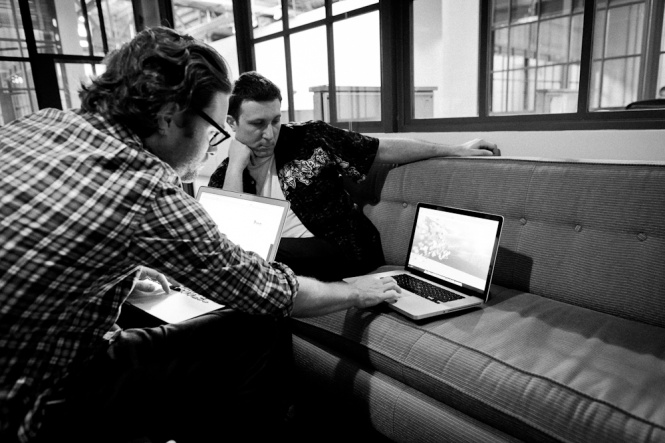 Bartek Drozdz is showing the first mock up of the "soup", made with Unity.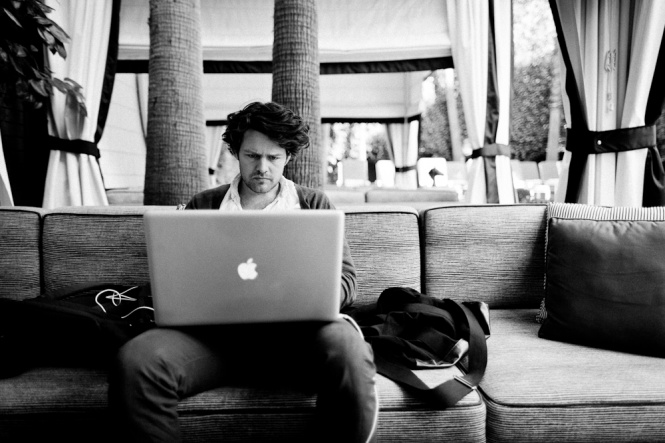 Marcus Ivarsson is focused. Viceroy Hotel at Santa Monica.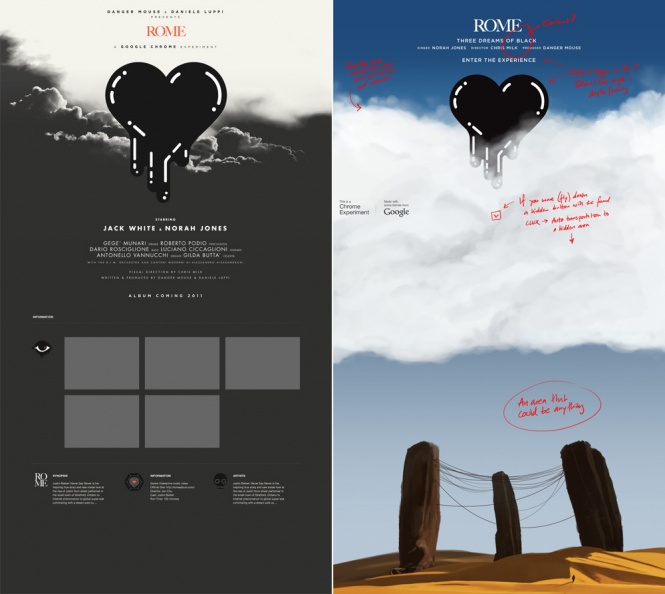 Sometimes you as an art director do very fast mock ups for the design directions like these. We had an idea to make a hidden area under the clouds on the ro.me site cause of time and tech limits that idea was never set.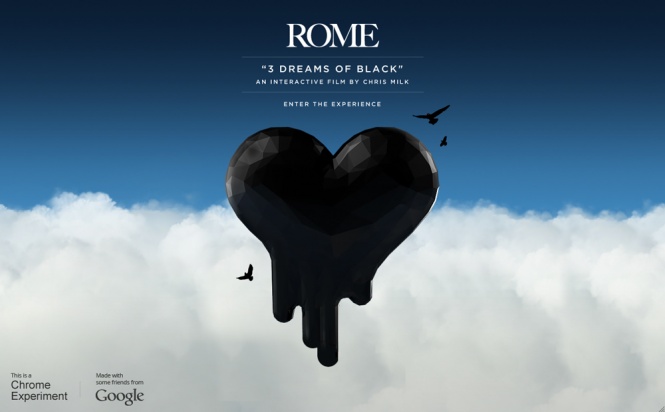 Another idea we never took further was to make the heart in 3d with reflections of the clouds.