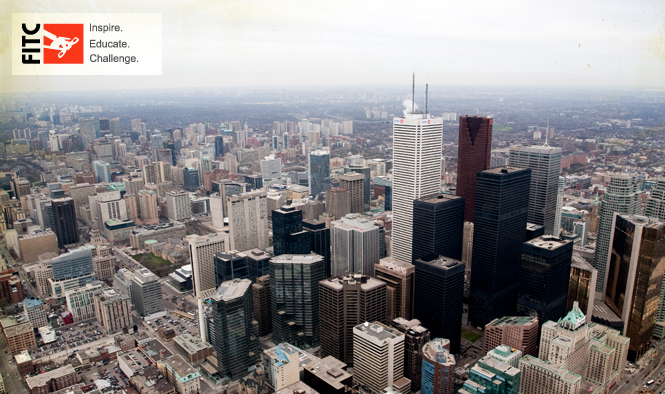 Last week David Eriksson (CD/CEO) and myself came back from Toronto and FITC 2010. North Kingdom where invited by Shawn Pucknell to speak at this, in my eyes, very professional managed conference with nice variation of speakers. FITC is an event for the design and technology community, which is now held for the 9th year. I where in Toronto and spoke back in 2007 and was already then very impressed by the arrangement at Hilton Hotel. This year's theme was Playground. "Which is all about...playing!"
All photos here below is taken from FITC's photostream on Flickr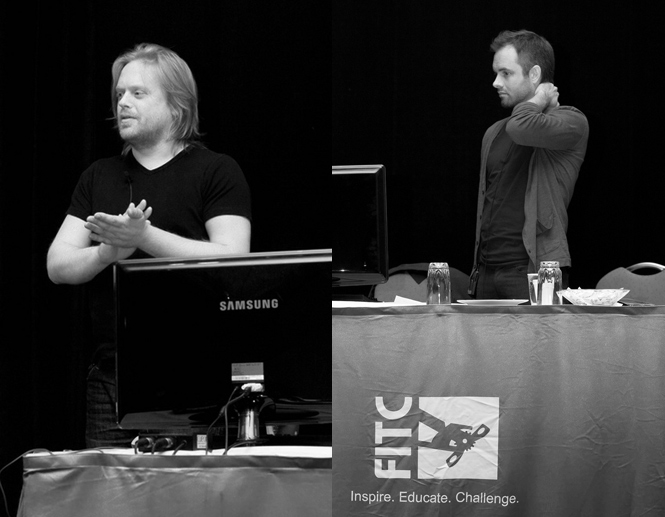 During Saturday, the day before everything started, FITC had a 'Get a Job' day where we spoke about how to apply and what you as a student should think about. If you are a designer it is pretty much about portfolio, portfolio and portfolio, and that you can work in a team, which is just as important.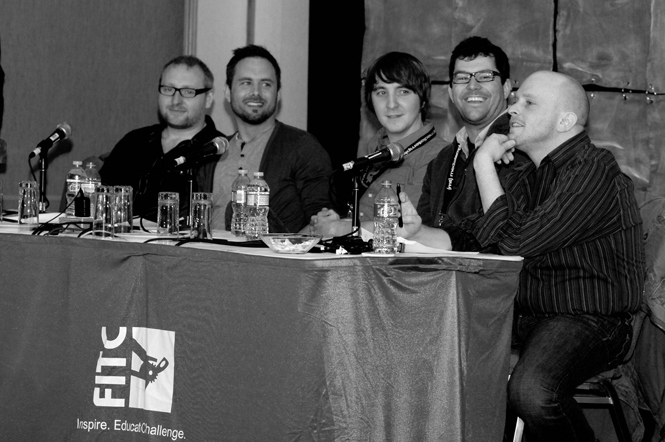 We also participated in a couple of panels. I joined a pretty interesting panel called "From Solo to CEO - Managing Growth" together with Hoss Gifford, Paul Pattison, Grant Skinner and R Blank.
"What happens when somebody goes from being a solo developer/designer into the owner or leader of their own studio?"
I talked mostly about how hard it is to keep up the quality when you are growing and how you have to focus on what you are best at instead having lots of different roles and trying to be all over the place. Also you have to let things go… which can be very difficult sometimes. David joined a panel called "Playing for Keeps in a Global Digital Playground".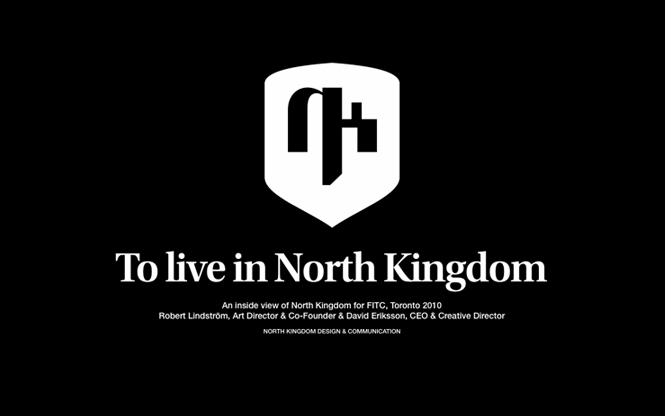 Our talk was going to be the last of Day 1. We called our presentation "To live in North Kingdom" because we were going to talk about how we work and think in our everyday work. We took them through the development of North Kingdom Showreel and our digital campaign for Adidas Germany; Teamgeist.
The audience was over 1000, so it felt really great that we had prepared our material well. The worse I know is to get up on stage and not being enough prepared. I mean, people have paid to hear us, so the least we can do is to prepare I think :)
After our talk, when we caught up on twitter, it seemed as people liked our presentation which made us very happy. Most interesting seems to been our showreel, how we handled weak deliveries in the Adidas project and our F.U.C.K. rule (Function, Usability, Cosmetica and Kärlek (Kärlek means Love in Swedish)).
Here is a short summary of our presentation by Dominic Gelineau for Applied Arts Wired;
"It is pretty nice when you get to learn how a renown agency like North Kingdom (@NorthKingdom) is working. I had seen this presentation 2 years ago and they did a good job to give new content by presenting a new project Adidas Teamgeist. They walked us through the production of this project that was heavy on video, illustration and 3D.
What I got out of this is the extreme importance they give to storytelling and to detail. A story seem to be at the heart of everything they do be it the showreel or a client project. As for being anal for details it is hard to get further than these guys, but it shows up in the work. What they do is simply amazing. The have shown sketches and first draft of 3D rendering that seemed fine to me, but where rejected. That was the problem exactly they were just fine, somethings were off, they didn't feel exactly like the rest of the site; back to the drawing board!"
It seems they got the message when we talk about storytelling & details at least :)
We also had the chance to check out some of the other presentations. It was great to meet Scott Hansen, (ISO50) again, who talked about "Blending Analog and Digital". He did a great talk about inspiration and his thoughts behind his work. We talked a lot about e-commerce on the evening and ever since I met him in Barcelona 2007 I have been very interested to start my own shop like his. So if everything turns out well, I will have my own shop pretty soon.
It was also great to meet our old friend from Skellefteå & Paregos again; Marcus Eriksson (Subdisc & WeAreAcademy). They are doing some really great stuff in Vancover!
Other presentations I saw worth mention are;
Bartek Drozdz, "From Flash to Unity (And Back)"
He was showing some stuff he had made with Unity, a new 3D technology for the web. He visited our office a couple of weeks before Toronto and I was already then blown away by the possibilities of Unity.
Takayuki (fladdict) Fukatsu, "Cool Japanese Hour!"
He talked about his own company Art & Mobile who creates iPhone applications. Amazing how big the market is for these kind of products. He told us he had over 600 000 downloads so far, which is very impressive! He also presented a iPhone Book for children where he had combined an iPhone with a children's book. I am sure we will see more of these products in the future!
Jared Ficklin, "Eyes Can Hear, 5 Ways"
As I saw Barteks presentation I just had the chance to see the end of Jareds talk which was also very interesting topic! He gave RFID tags to over 3000 people at a big event and made data visualization of it. Everything from how much beer they where drinking to how long time they spent at the toilet. Awesome!
John Underkoffler, "It Has To Be This"
Great to see how Oblong Industries created the interfaces for Minority Report and how they did it in real life. John is a MIT graduate and was science adviser also at Iron Man and Aeon Flux.
That´s all. We hope to see North Kingdom at FITC in the future as well :)