Last month we launched a pretty cool project at Times Square for LG on their huge LED screen. A project within the project was to create a character, a process I will show here below. Usually I don't work as an illustrator but sometimes it happens...
Overall we created over 50 characters during two hectic weeks...
A — Final direction from client B — My redesign and modification of the character when we wanted him more mature and cool C — Klaus Lyngeled (Character Designer och Animation Director) did some tweaks on my sketch D — The final character made in Unity 3D
When a project have a character in focus it's of course super important to give him a look that works both for the brands philosophy and the project itself, a combination that can be very tricky sometimes. This autumn I helped one of our teams with some early concept ideas and development of a character for LG. The character was going to have artificial intelligence and "live" inside the biggest LED screen in NYC; a huge 15x25 meters display (1984x1136 resolution) on Times Square. His name is Gil (Life Is Good backwards) and he's LG's Good News Ambassador. Gil is animated in real-time 3D (Unity 3d) which means instead of using loops of pre-rendered animations, he actually can respond differently to messages, weather reports or news feeds so that he feels really alive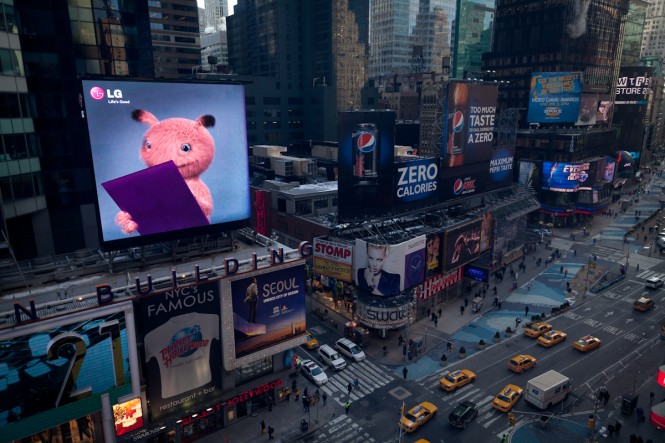 December 14, 2011. 11:42 PM — Gil is answering some of the first questions people sent him via SMS. Gil writes answers on his tablet and shows it for the audience. This photo did I take from the Marriott hotel at Times Square, where the launch party would take place later same day.
He will be fed daily good news from RSS feeds and user generated messages through social media portals or through SMS interaction. He also reacts to time of day, weather, and holidays or maybe he just watch the people on the street, living his own life on his own schedule.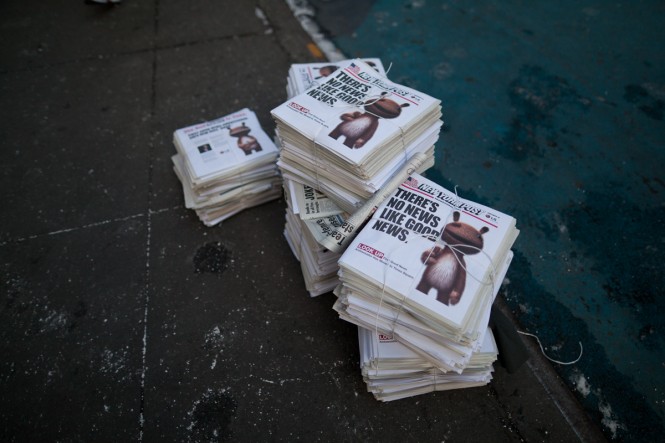 Our character was at New York Post cover this day. This stack of magazines did I found on Times Square.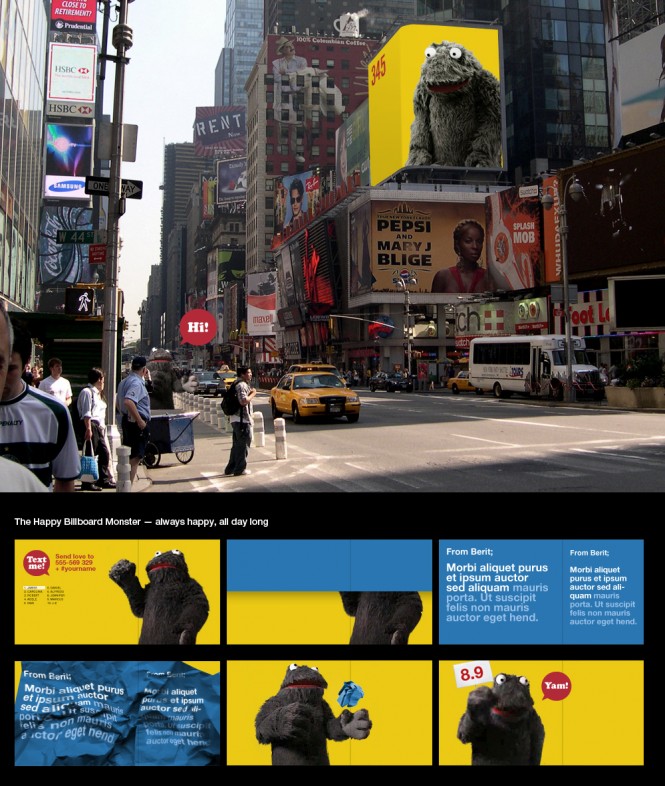 This is the very first sketch I did directly after the clients briefing. I have always loved a character Tobias Allanson did for Ingemar Backmans snowboard company Allian for 8-9 years ago. It's was a character called Gorg that had the perfect attitude and look. I used his character as a reference, so I just placed him inside LG's screen to see what happened. I really wanted the screen to pop out as much as possible so therefor I kept the background super clean. We known that we had to create something different from all other billboards that covers pretty much the whole Times Square. The client (Y&R) loved our concepts but they didn't wanted a furry creature at this point, but a more modern, stylish character with New York style. "Not childish" was another keyword.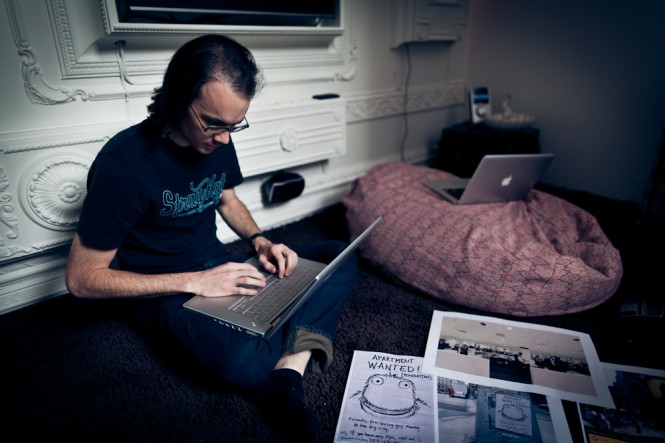 One of our first meetings. It's September 27th, 2:41 PM. Alfredo Aponte, Senior UX Designer at North Kingdom, is writing on his laptop. In front of him we see some of my sketches of an guerrilla market idea we had for Gil; to place lot of flyers around the city where he is looking for an apartment.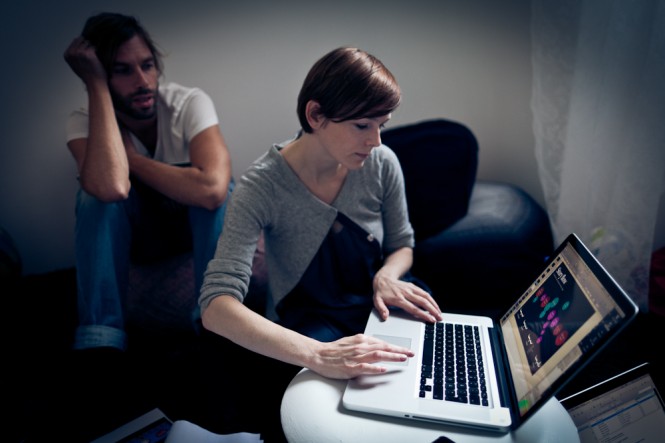 Carolina Cwiklinska, Art Director, is sitting with one of our first Keynote presentations. Behind her; Daniel Isaksson, Technical Director.
— 1, The Sophisticated One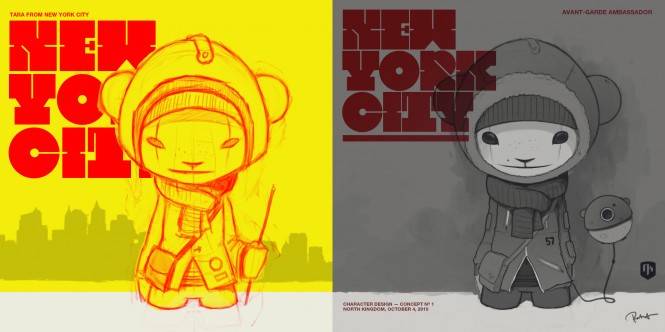 A really first sketch I did of Gil with the keywords "more modern, stylish character with New York style". Feedback on this one was "...move away from the animal style face... he needs to be happier... maybe make the face proportionally bigger... make him less urban looking and less sophisticated..."
This was the starting point for two weeks character mass production.
— 2, The Small One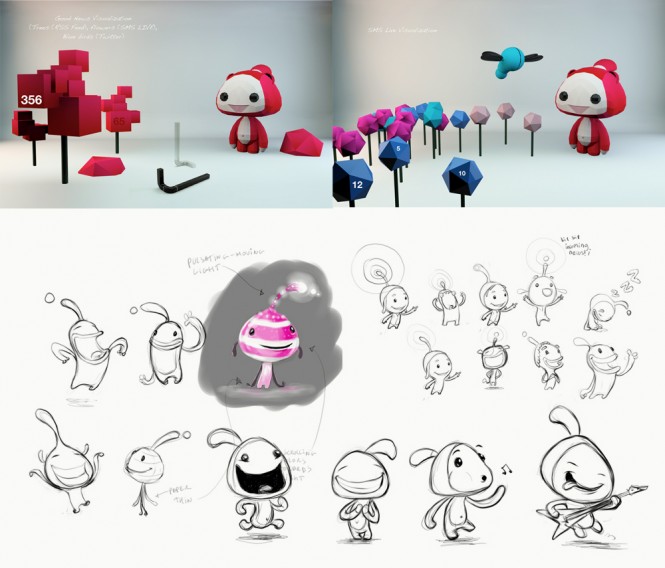 Above are some characters Carolina was playing with. Directions from client was focus on big happy face. Klaus did the illustrations and the 3D mock up is made by Carolina in Cinema 4D.
— 3, The Happy Crazy one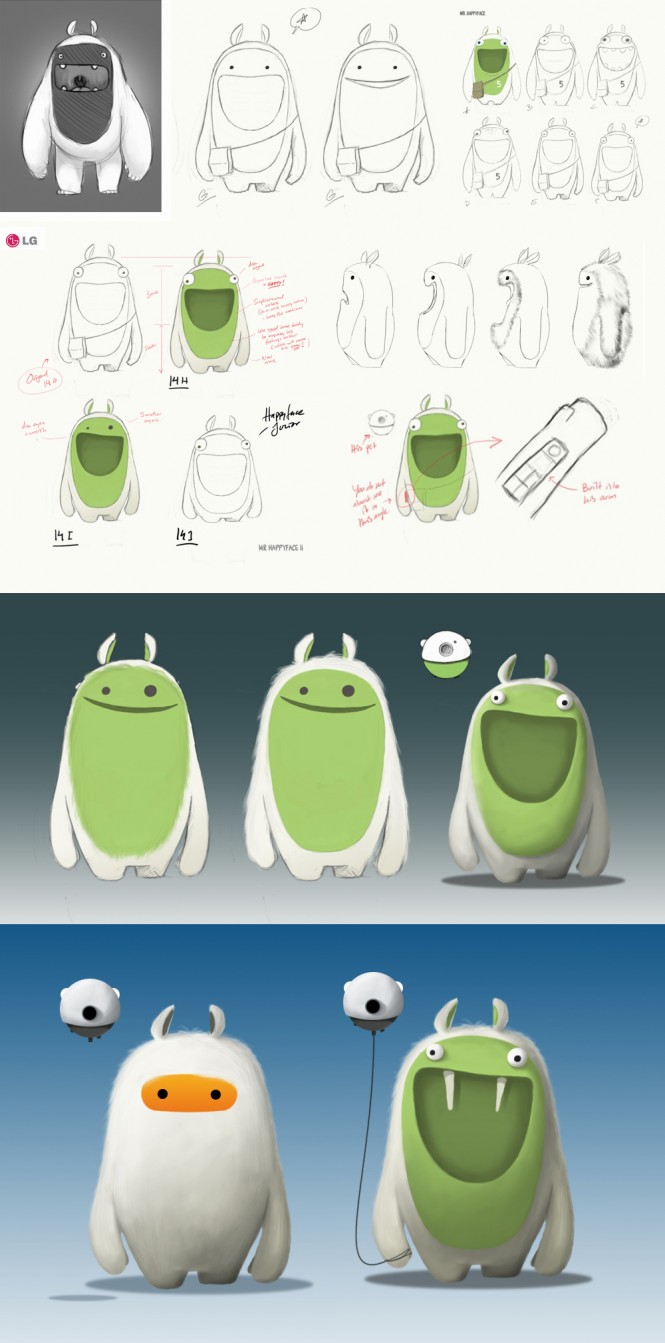 Myself started to discover another style, with the same client direction; more lovable, big face, big happy mouth and no real body. Therese Larsson did an early concept sketch I liked (the top left corner), so I took her character and started to modify it. Our client (Y&R) really liked the direction of this one but LG said no when they thought it didn't was LG. The character was to goofy and to young.
When the time was really short our tech guys needed to start working. Even we know at this point this green monster wouldn't be the final they started to do some first testes in Unity 3D.
— 4, The Robotic One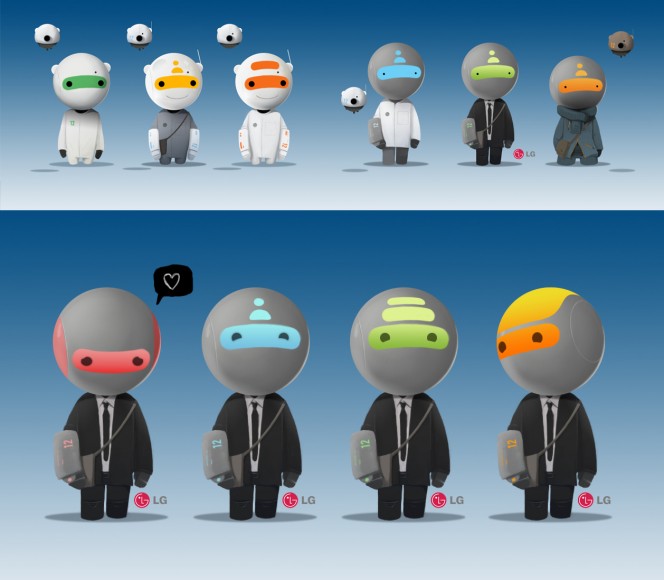 Another style I worked on with during the second week. The client wanted us to test a more robotic and mature manner. The idea was to have a character with a super clean head (reference was Marvin from "The Hitchhiker's Guide to the Galaxy") that also is a display that could show colors and shapes.
Here below are some more sketches of this robotic style, made by other artists;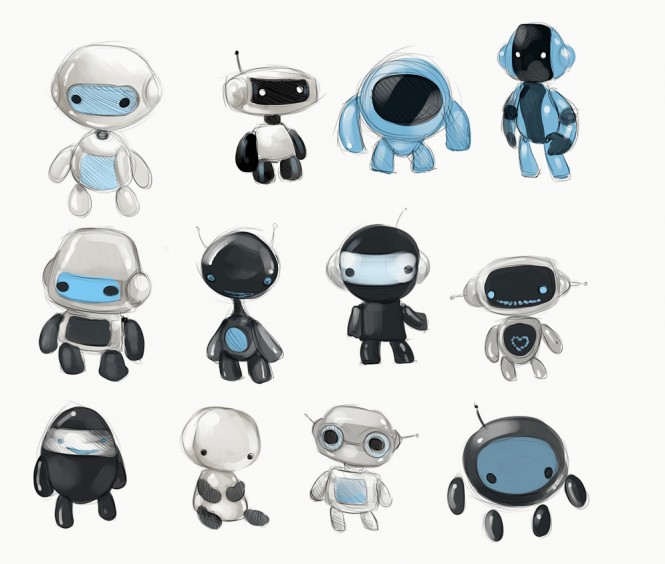 Sketches by Therese Larsson.
Sketches by Anton Eriksson.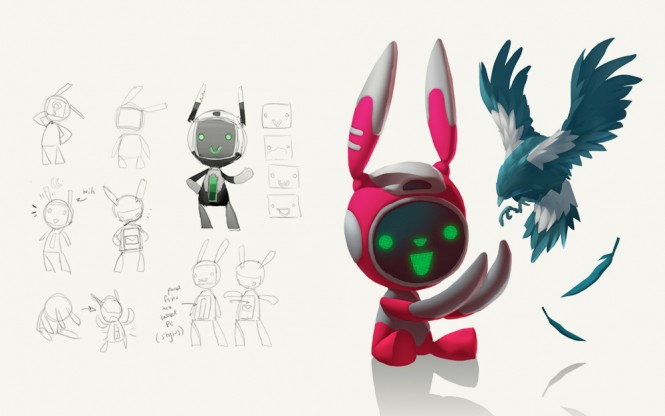 Sketches by Joakim.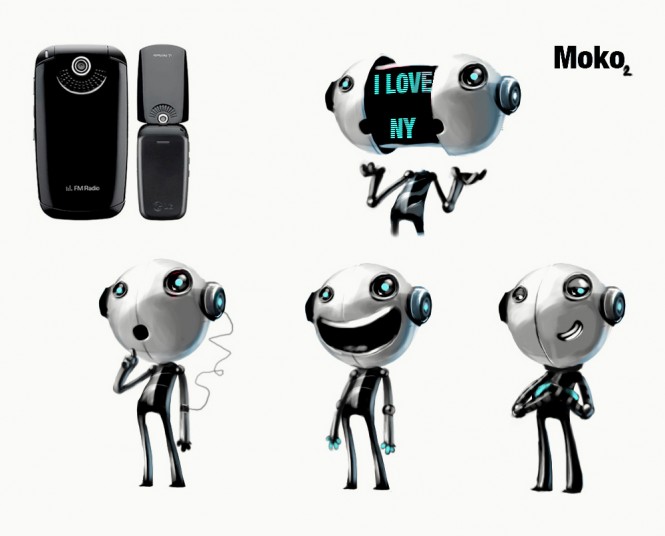 Sketches by Klaus Lyngeled.
— 5, The Flurry One (Final version)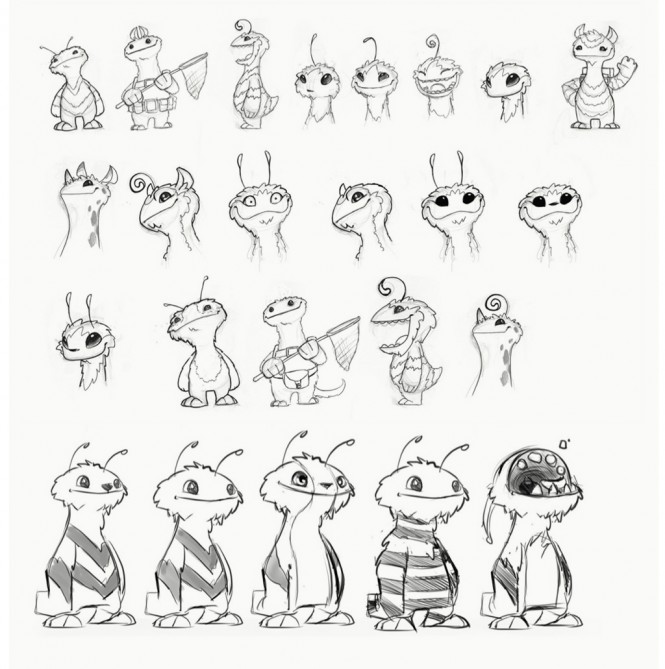 In the end the client wanted a flurry version, not unlikely the one we presented the first day. These sketches are made by BigShot.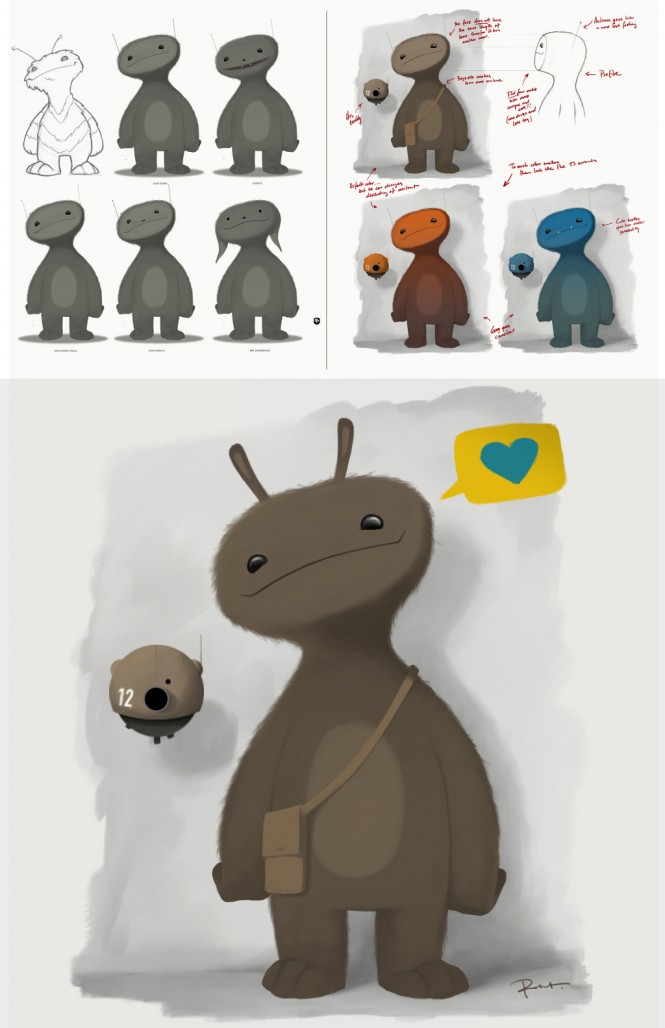 We found one guy that had some potential which I tried to do more functional, sophisticated and mature.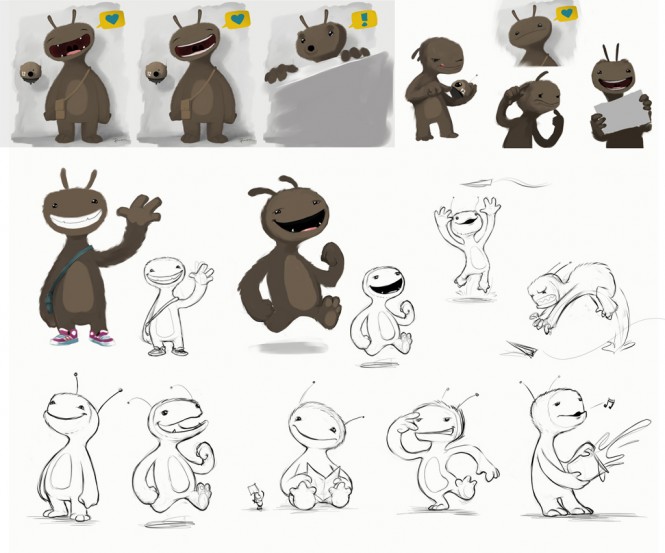 Klaus Lyngeled continued to develop the character from my concept sketch...
The final version — Gil become blue during the last days until we finally could convince to keep him more natural. The last thing we wanted was to create a mascot. The character is built in Unity which handle the fur surprised well.
Tobias Allanson helped us with the physical character when Gil would be able to leave his "apartment" to enter the street. More pictures and information about that here.
We filmed a short movie of the physical Gil at Brooklyn and SoHo with three Canon 5D. I used Canon EF 24mm f/1.4 L USM lens where these pictures are from. This model was later used at LG's opening ceremony. (The short movie is not yet finished)
Just a supershort clip I took from the Marriott hotel at Times Square where I used a Canon 5D on one meter glide track. More to come...