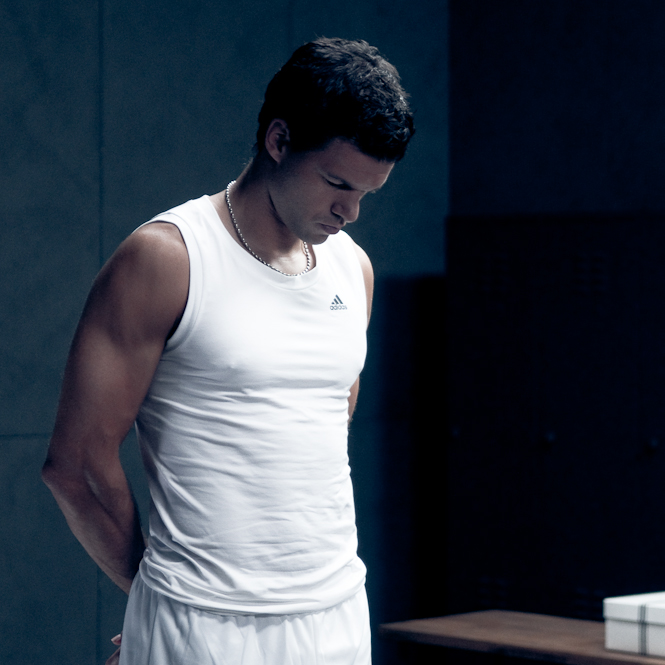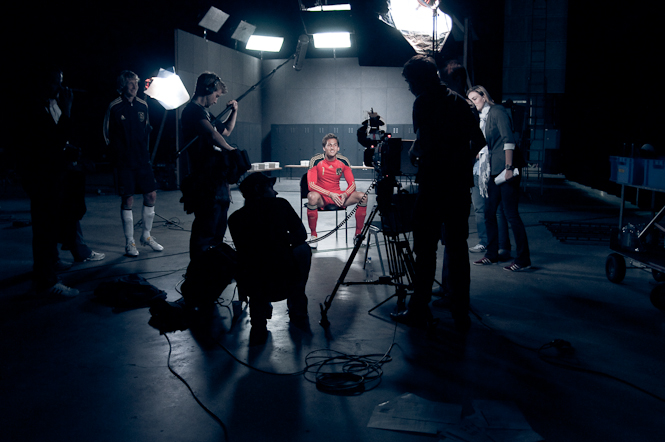 Michael Ballack, the captain of the German national soccer team, concentrating before a film shoot and Rene Adler, the goalkeeper, is doing an interview in front of our scenography. Cologne, September 2009. A couple of exciting days for us from North Kingdom when the film shoots for Adidas Teamgeist took place.
Here is my personal thoughts and pictures from this autumn. These "Making of" parts have been very important for me to me to keep when I want to collect parts of the process, which never is seen in the final result and to have something to look back on when we work with new projects in the future. Working as an Art Director for this kind of projects can be pretty difficult. Big complex game campaigns for big brands, where lot of different parts runs parallel. You need to keep everything in the same style and quality, and you always have a client with very high expectations. Times like that, the most important is to have a well working team, which we have in North Kingdom! Many of us at NK have been working together over ten years so we know each other very well. Nobody is afraid to say what he or she thinks. A project will never turns out good if people in the team don't say what they have in mind. It is so true that the details will betray you, so when Marcus Ivarsson (our Project Manager) said "Every single pixel need love" I couldn't agree more.
I'm pretty happy with the final result. The sound and voice overs are absolute fantastic! DinahMoe did a great job! They handled all sound dynamically at runtime, all integrated and affecting each other. Visually it is almost perfect. With little more time I think we could make the game itself a little harder in the last two chapters and with more variations. But still, we had over 500,000 games played the first three weeks, chosen FWA Site of the Month, and a very happy client, which is most important. However, I have to admit I wasn't totally sold about the game idea, the strategic style, but it gave me even more reason to try to make it as visual outstanding as possible.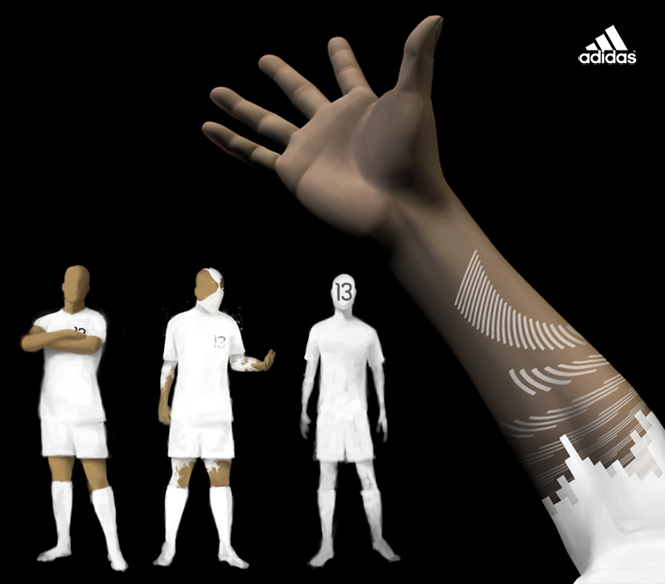 My first rough concept drawings from August 2009, showing how the white takeover would look like, how the players would transform to these white "ghosts" without any identity, history or power.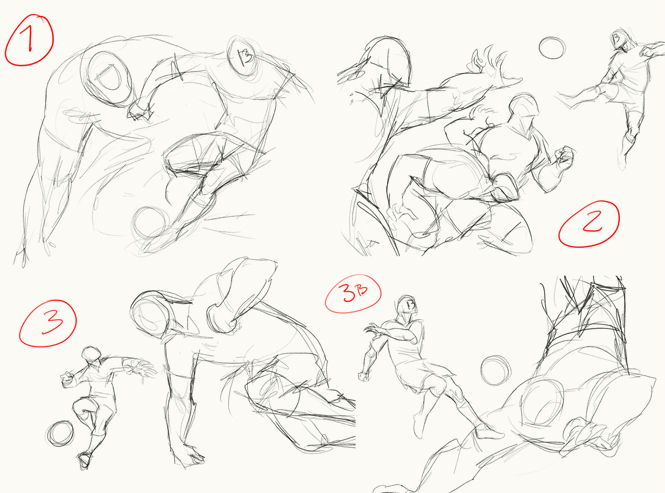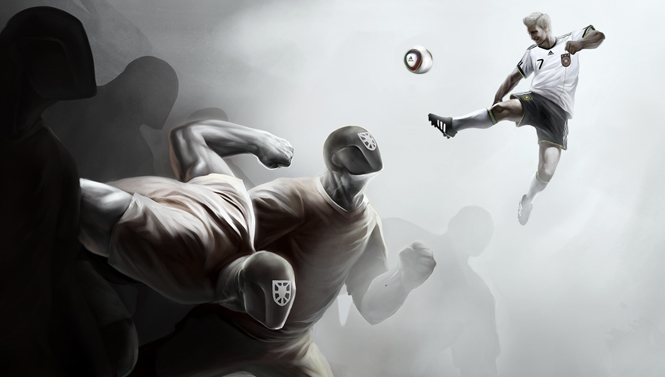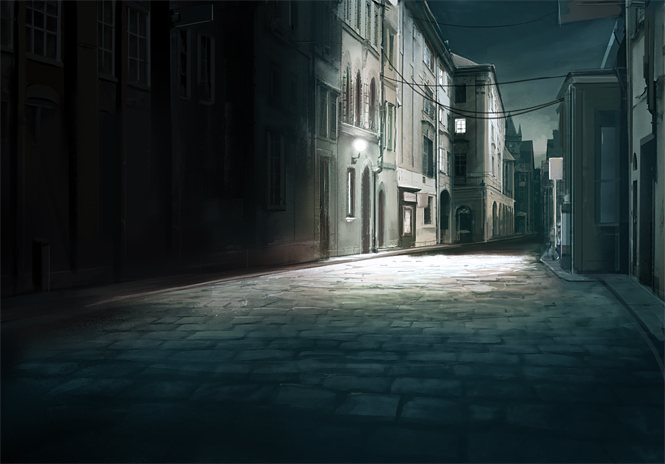 During the project I worked with two very talented illustrators; Therese Larsson (intern at North Kingdom), who did the covers and Anton Eriksson, who was in charge of backgrounds, based on our 3D sketches. The graphic novel style came from 180 Amsterdam who did the very cool "Spark" movie for Adidas earlier this year, which gave Adidas a new mystic, dark feeling. I wasn't so fond of the rest of the campaign they did, when their graphic novel style was too lame and to regular. Adidas let us make our own style within the genre which we both loved and thought would be necessary for a great outcome. Basically I got free hands with my illustrators. Why can't all clients be like that?
— STORYBOARDS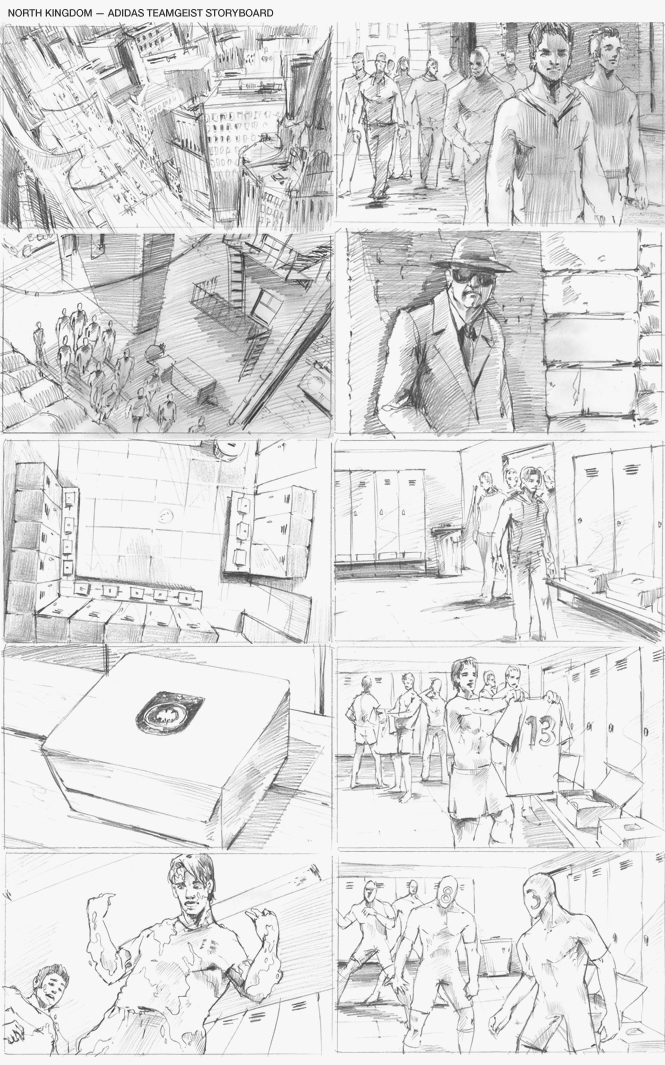 As usual we start to make some very rough storyboards of our ideas. These drawings, by Anton Eriksson, are showing the prologue. As soon we got thumb up from the client we continue with rough animatics.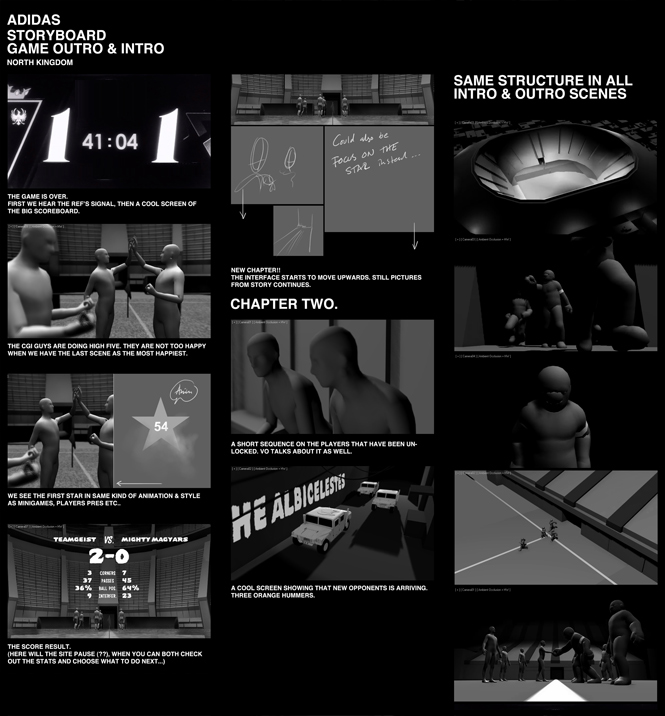 A couple of weeks before Cologne and the film shoot I visited Gothenburg and our 3D master Mathias Lindgren to finish the animatics. These rough movies have been an important part of the process in the last year projects when we do more and more film productions.
— DESIGN IN PROGRESS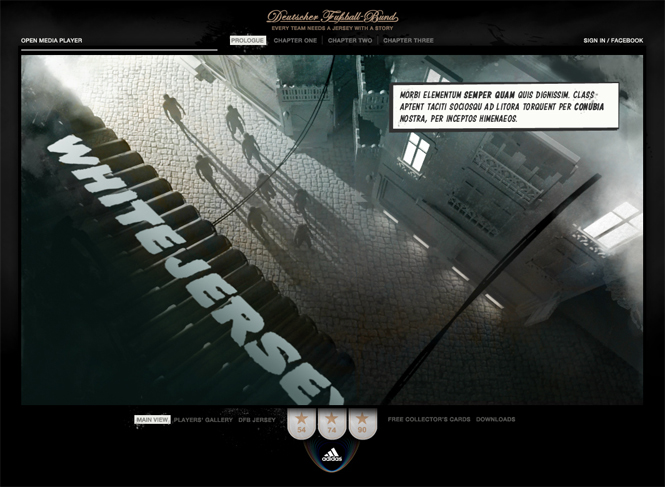 One of the concept sketches for the environments. Here can you also see an early design of the interface. Not that far from what we ended up with, except we used a fullscreen solution at the end.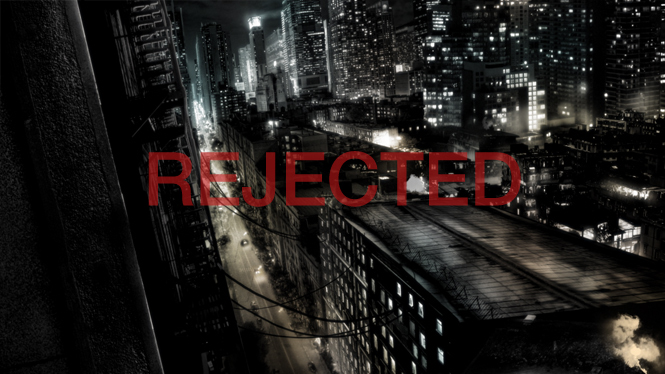 It was lot of 3D to be made so we outsourced some parts when we couldn't manage everything inhouse. If we would outsource we could focus on other parts we thought. However, the first weeks become a nightmare when this new 3D partner, with really good references, wasn't even close to the artistic level we where looking for, neither possible to work with. After three weeks we unfortunately had to shutdown the collaboration. When the was running out we choose two new agencies close to us in Stockholm; Fido (who would work with the environments in the movies) and Important Looking Pirates (who would make the white takeover effect in the prologue.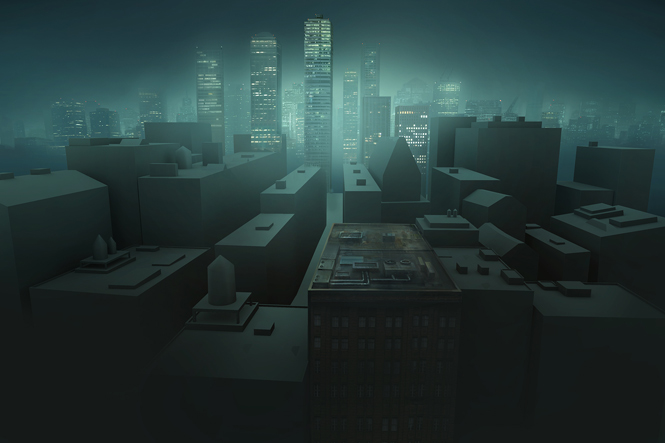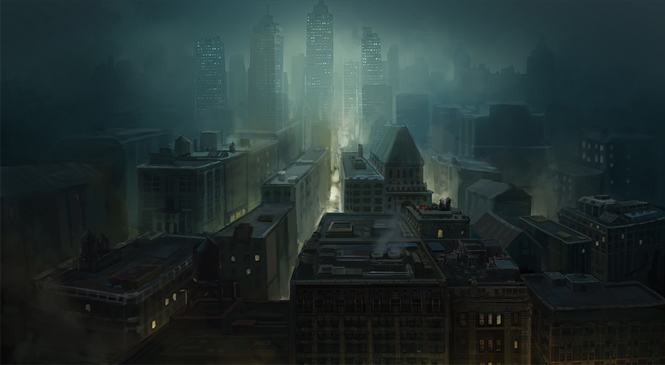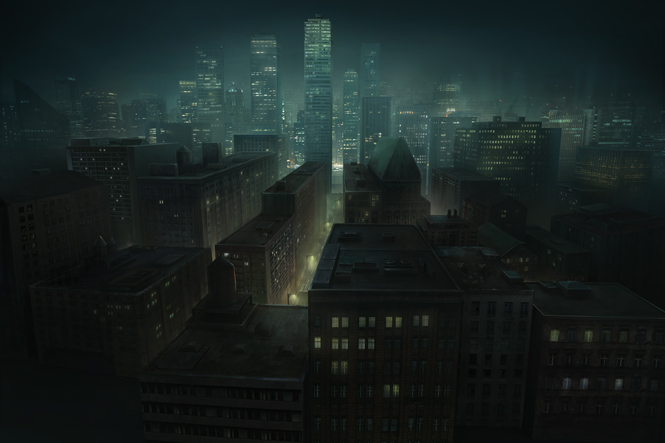 Work in progress from Fido, who helped us out with the city and gave us exactly the execution we wanted. We had "Sky Captain" and "Sin City" as our references which would give us the dark style we was looking for.
— FILM SHOOT IN COLOGNE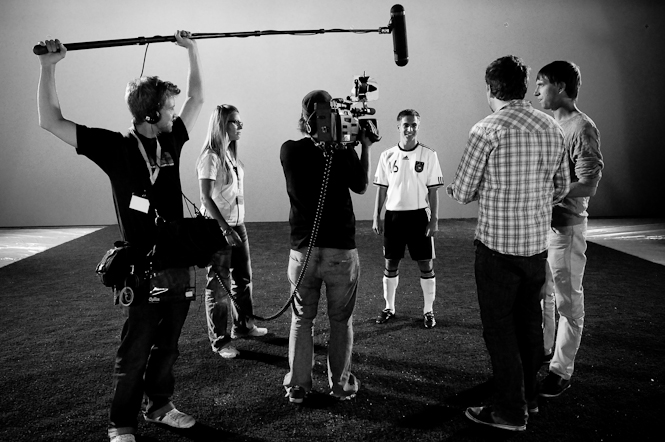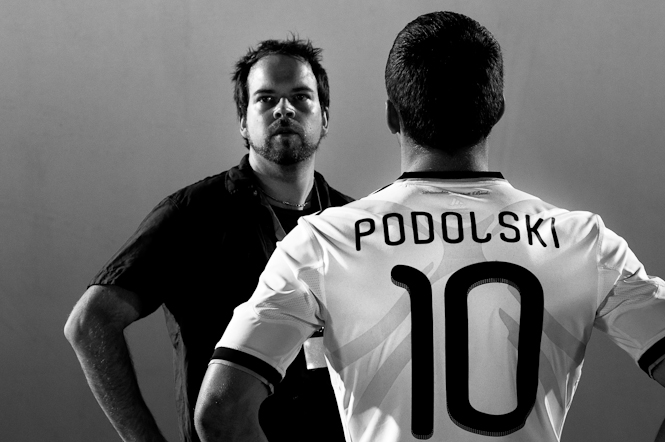 Director Ted Kjellsson from Direktörn & Fabrikörn (Skellefteå) helped us out with the film shoot in Cologne. Here above he is working with Lukas Podolski and Philipp Lahm, surrounded by a film team that made a Behind the scene movie for Adidas.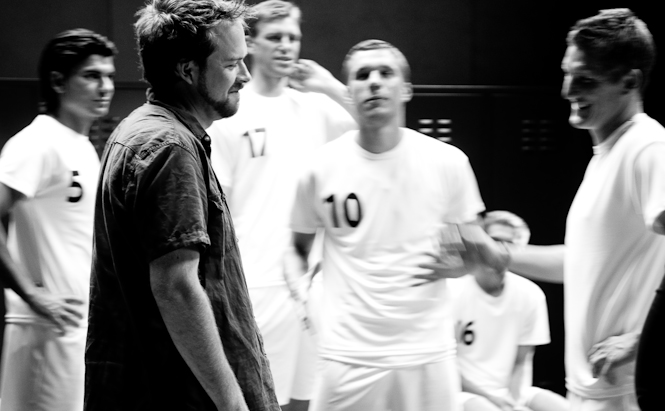 Bastian "Schweini" Schweinsteiger is having fun of Ted.
David Eriksson (North Kingdom) is going through the storyboard for the players. Ted Kjellson, David Grehn, Clemens Dopjans, Michael Ballack and the rest of the team are listening.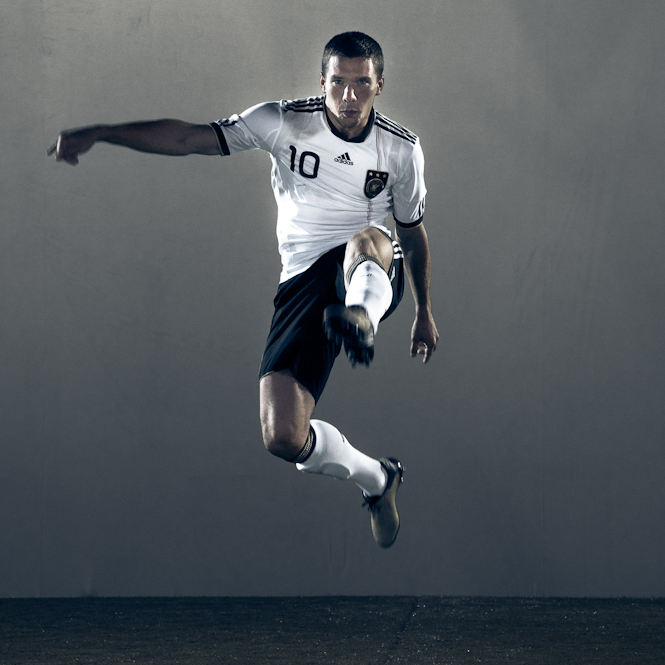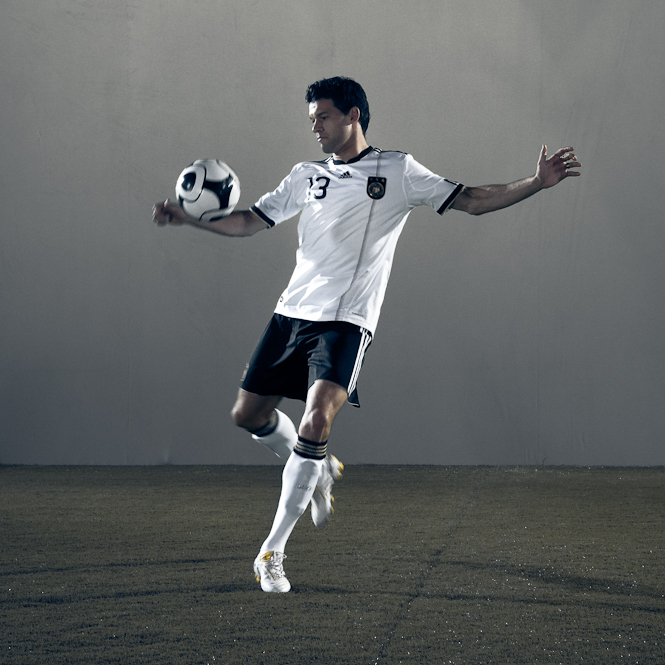 Two pictures I took on Lukas Podolski and Michael Ballack during the action shoots. Some quick color corrections in Lightroom.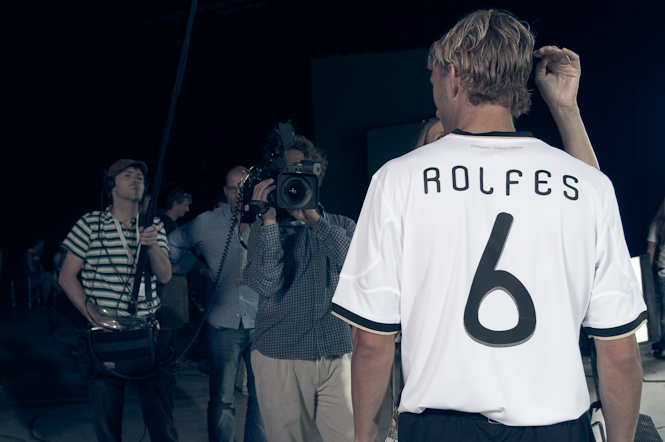 Simon Rolfes gets some make-up.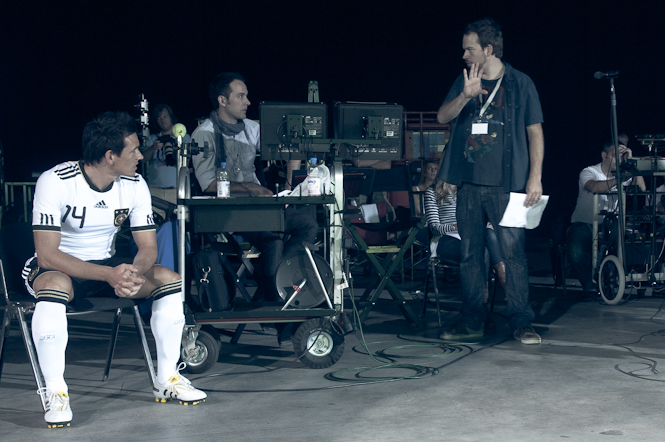 Our client from Adidas, Clemens Dopjans, in a discussion with Ted Kjellson.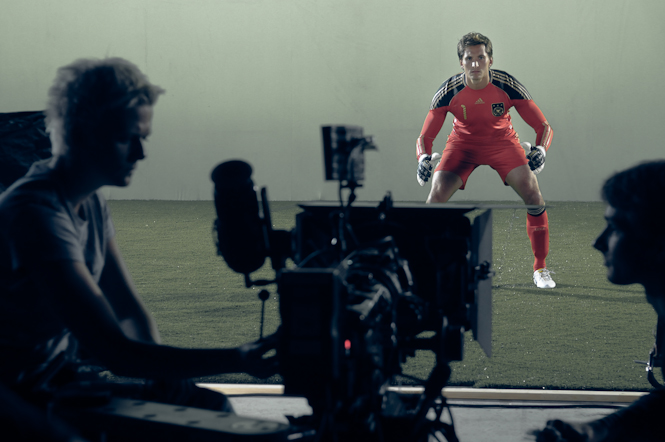 Rene Adler in action.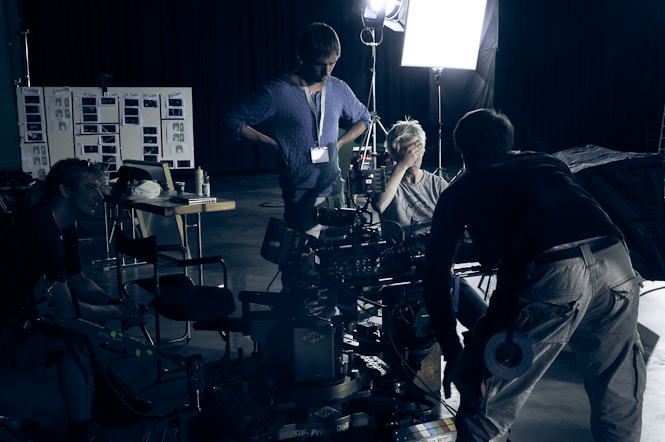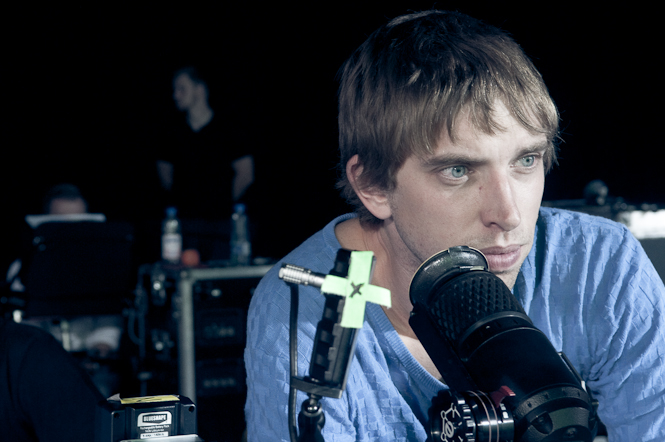 The days where very intense. Over 130 people where on the call-sheet. Cameraman David Grehn, Skellefteå, is focused.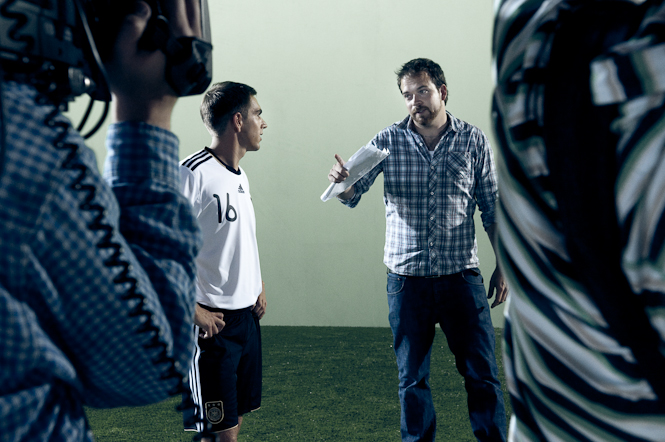 "Please Mr Lahm, look more badass."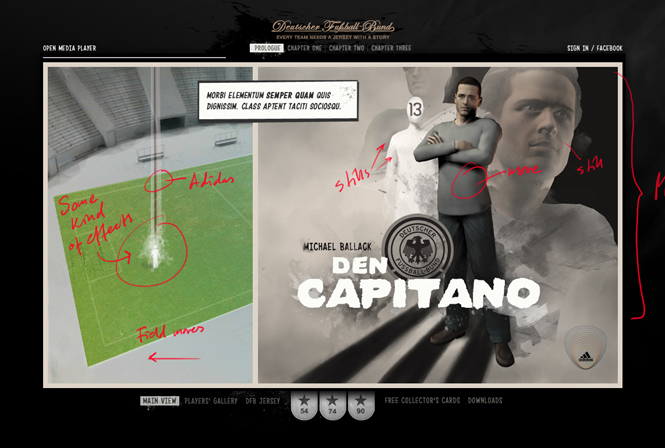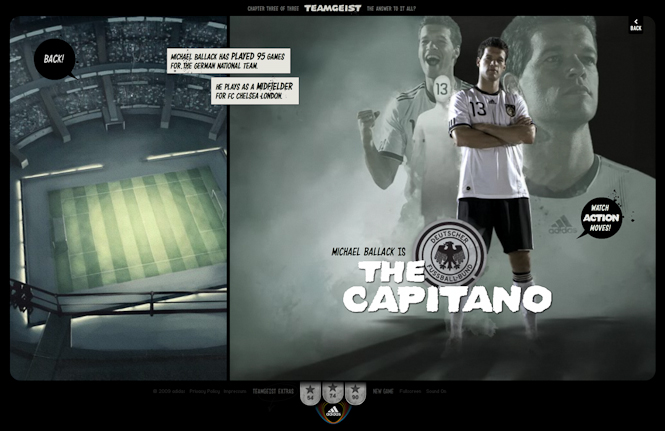 Before the film shoot it was very important that I had a clear vision of how we would use the material. Here is an early sketch I did before the shooting and how the end result turned out.
— MAPS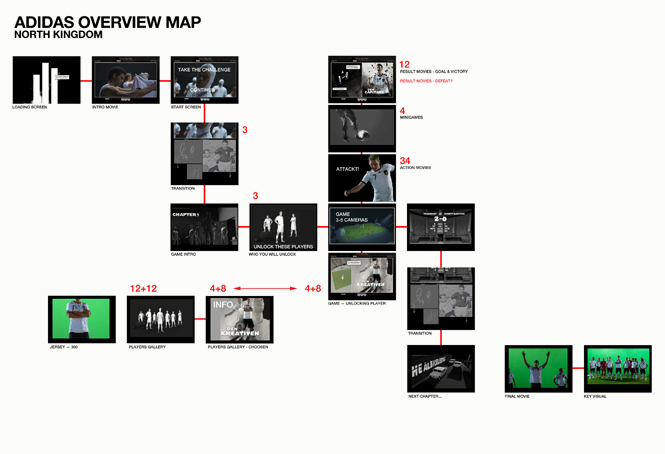 Building a regular campaign and building a game campaign is two different worlds. A game campaign is so much complex. This kind of maps help you out a lot for you as an Art Director and for the team.
— THE STADIUM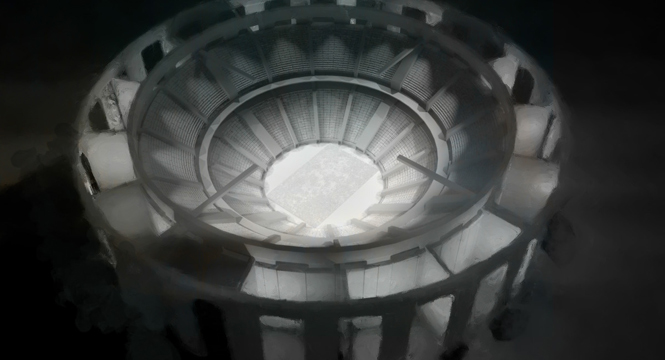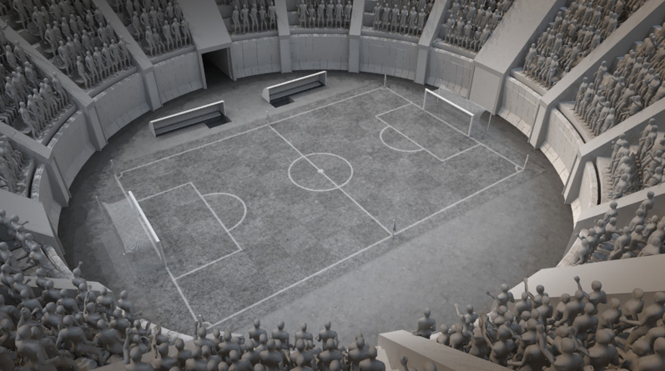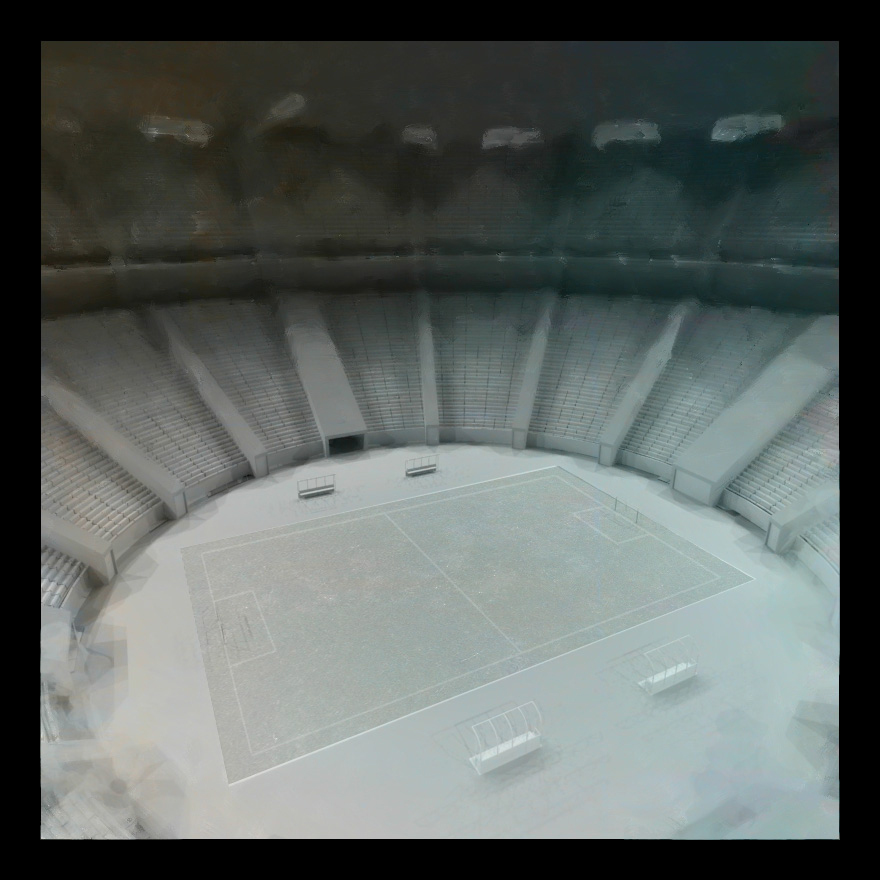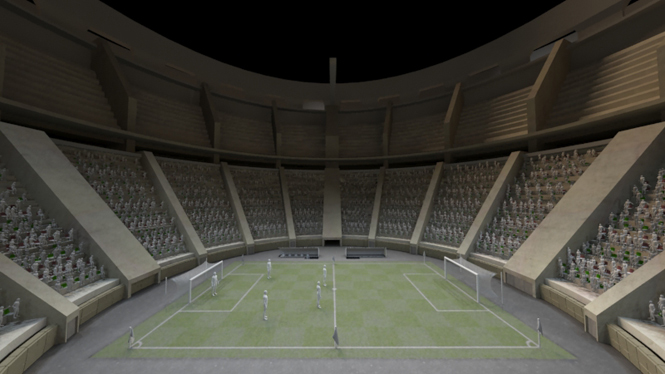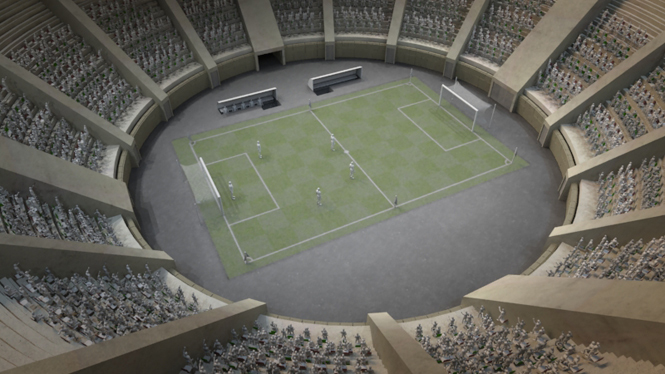 A round stadium, like Colosseum, felt more unique as soccer stadium. This stadium would be the center of the whole story so it was important to make it as interesting as possible, something that would match a dark graphic novel. From the beginning we had all players running around like a regular soccer game, but it never felt right when this is actually a strategic skill game. To bring more chess feeling we placed the players on small plateaus.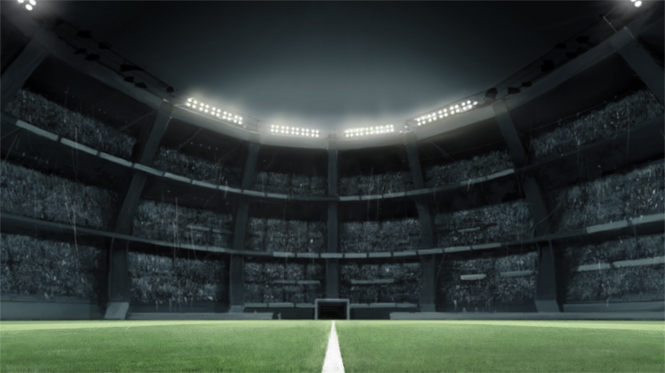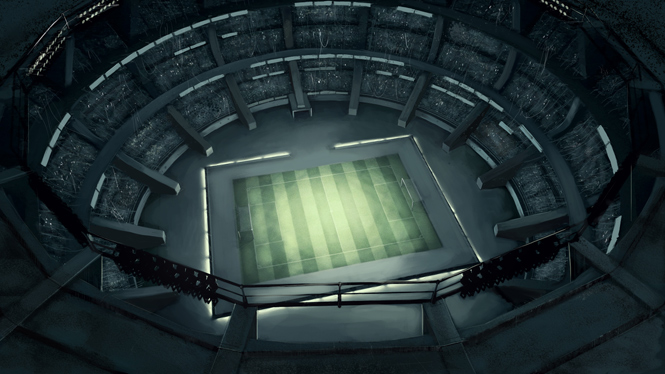 Teamgeist Stadium — Final art.
— CHARACTER DESIGN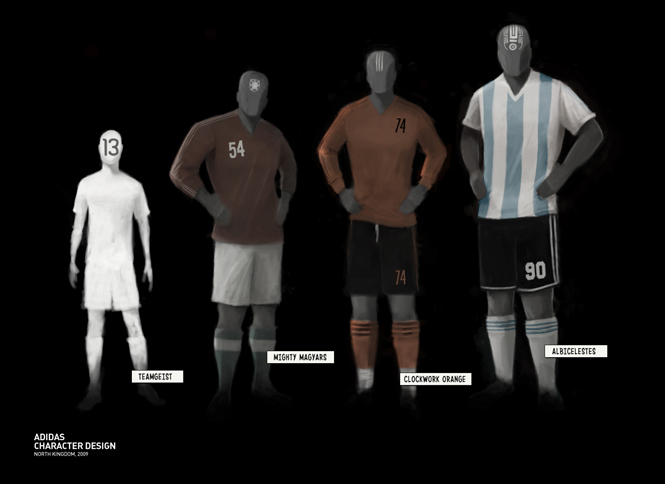 The Germans had to replay the three World Cup finals they won to get back their history; 1954 vs Hungary, 1974 vs Holland and 1990 vs Argentina. When we couldn't use any historical persons we had to came up with something else. I wanted the opponents in the same style as our white German player so I made them with mystical faceless heads with symbols on. They all had to look the same cause of the file sizes so therefore I gave the team members the same number; the number of the year they where represented.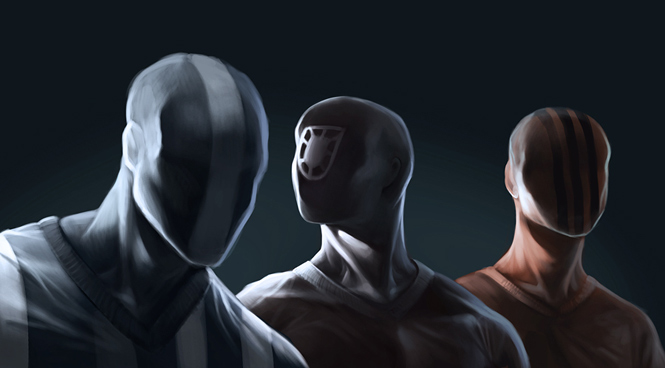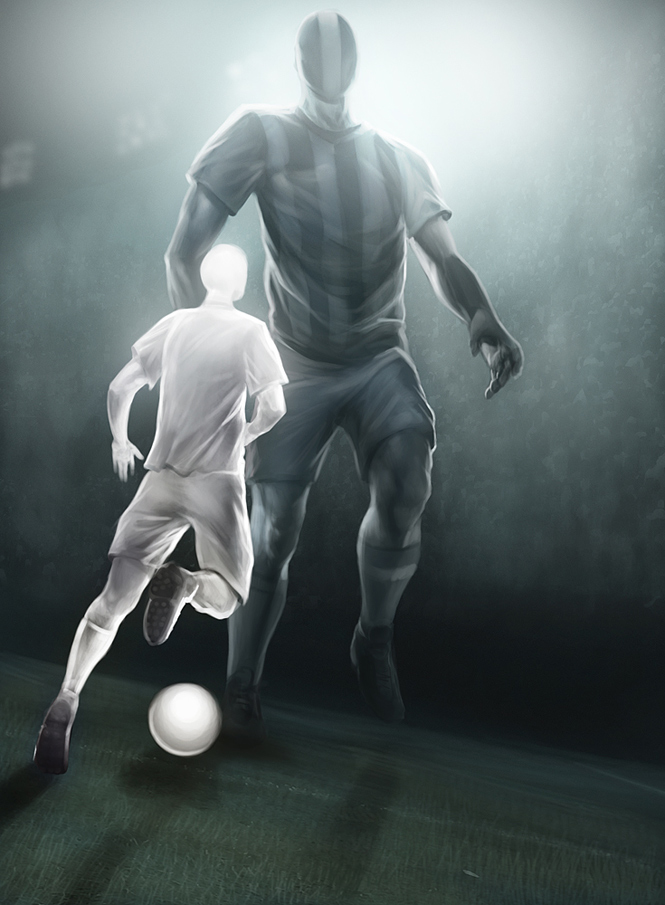 Some other concept drawings to test different solutions, this time from the talented Therese Larsson. In the end it felt best to keep them clean, big and rough.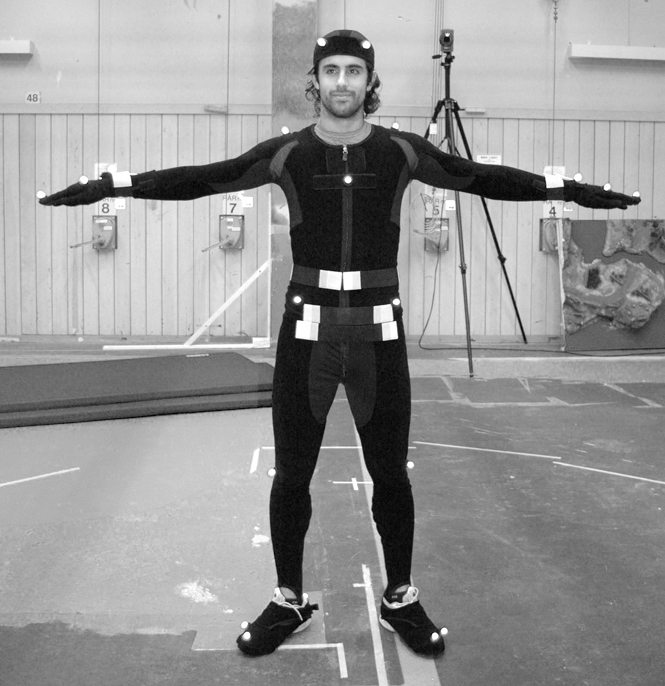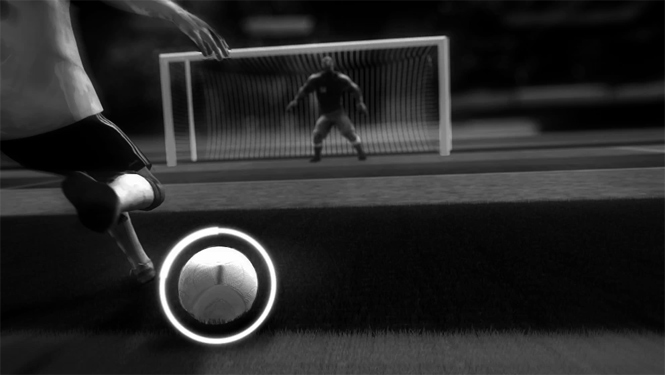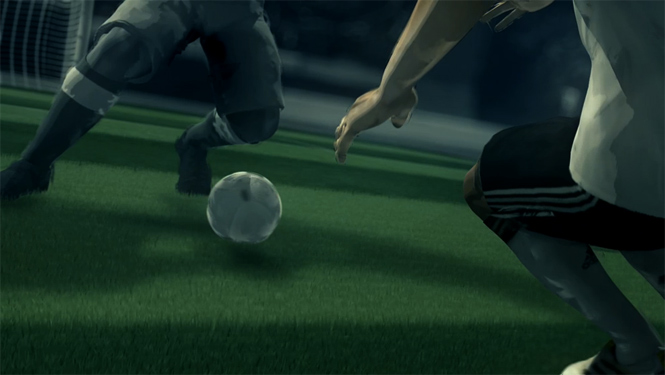 For the mini games we used a classic motion capture.

— BEHIND THE SCENE MOVIES
Adidas had an own film team in Cologne during the shooting days for their Teamgeist blog.