NORTH KINGDOM, WORK IN PROGRESS — For the moment I'm working as a Creative Director/ Art Diretctor / Designer with a little different project then I am used to. It's an interactive installation that will be placed at Skellefteå Airport this winter. An installation where we will use a very interesting 3D camera technique and a huge 82 inch one-touch screen. If you have seen Microsoft's Project Natal you maybe know what I'm talking about, it's a 3D technique that can be used both in games and installation like ours, but also for instore installations, interactive shop windows and much more.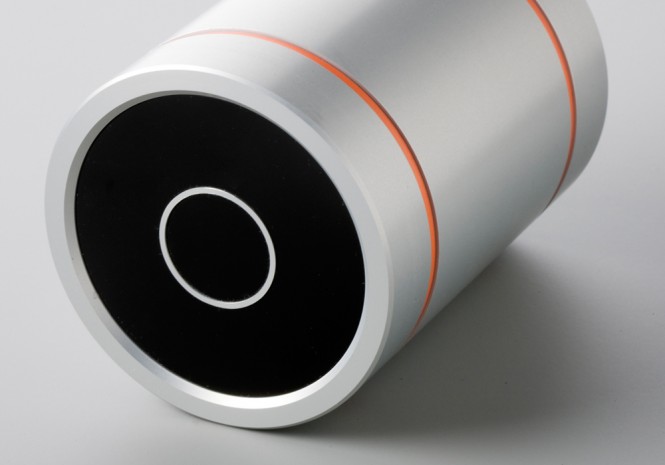 The 3D camera is developed and made by Optronic in Skellefteå and it's using Time-of-flight (TOF) technology (can be explained as radar operating with light). More information about the camera at Fotonic.
"With the technology, the time it takes for a very short laser pulse to travel to a certain object is measured, allowing distance to be calculated with great accuracy. Using a unique sensor chip, the distance to each individual pixel in the scene can be measured, creating a complete three-dimensional image."
Video — Proof-of-concept of hand controlled car game
Video — 3D camera test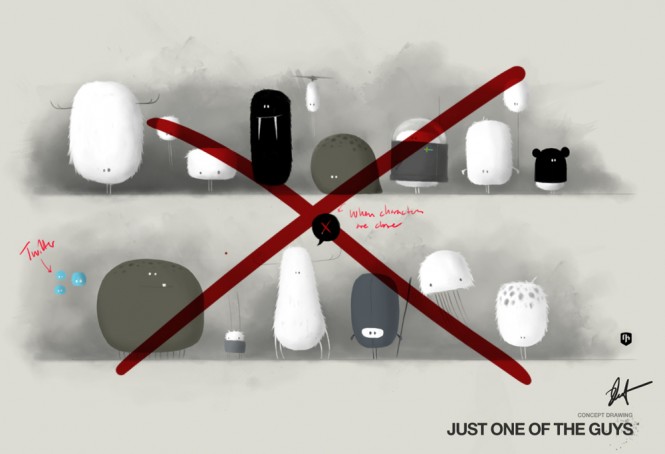 The basic idea behind the concept was to make something pretty simple (orders from the 3D cam tech guys) and focus on the visual, because we don't want any bugs when it will be a public installation. That gave us directions to use as few joints in the bodies as possible. Therefore I had to figure out how to make them so simple as possible but still interesting. The first sketches I did were these fluffy things, which was made for one of our first ideas around an interactive mirror. From the beginning our ideas were mostly to make something arty, focusing on something we called Flight DNA (when every flight trip is unique), and digital mirrors with avatars (which is still on the track in another shape). However, it felt little lame, so we ended up with a game instead that anyone could easily understand. During this period I was working a lot with Per-Mattias Nordkvist, Improove (who I worked together with at Paregos in Skellefteå, way back).
(These fluffy characters are now moved to another ongoing project).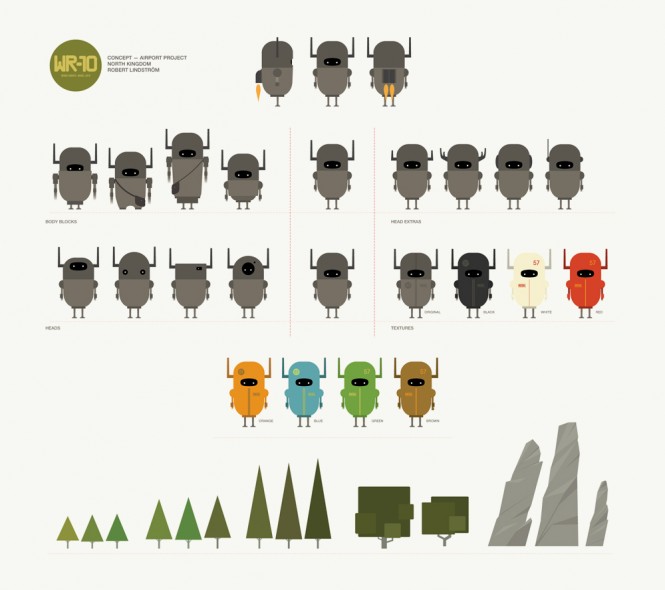 When we moved over to the game idea I wanted characters with more attitude and possibilities to fly. When Skellefteå is famous for its wood culture, what would be more right to do the characters in wood? And what would be cooler to make these wooden characters into robots? Above is the first concept sketches I made in Illustrator, showing the different bodies, heads, etc. It is also showing some first ideas of how the environment will look like.
Here are we working with the texture, colors and placement of the fabricated logotypes (which will give the characters a racer attitude). Pawel Wilkos from Ars Thanea is helping me out with the 3D when Mathias Lindgren, our 3D master, went on paternity leave. So big thanks to our old friends at Ars Thanea! We are own you one!
When I came up with the idea of these wooden robots/pilots it felt like we could do something more around them. Could we make them like a brand, could we take them further to other platforms? It's some ideas we now are looking at, so I really hope we will see them in other platforms soon. Right now we are actually doing some first tests on iPhone (something I have been dreaming about over three years now). My intention is also to make a shop so people can order them as 15-20 cm high design wooden characters, limited edition. I hope to connect our local wood companies together to make it happen. If not, let me know if you have any ideas how to sponsor the project.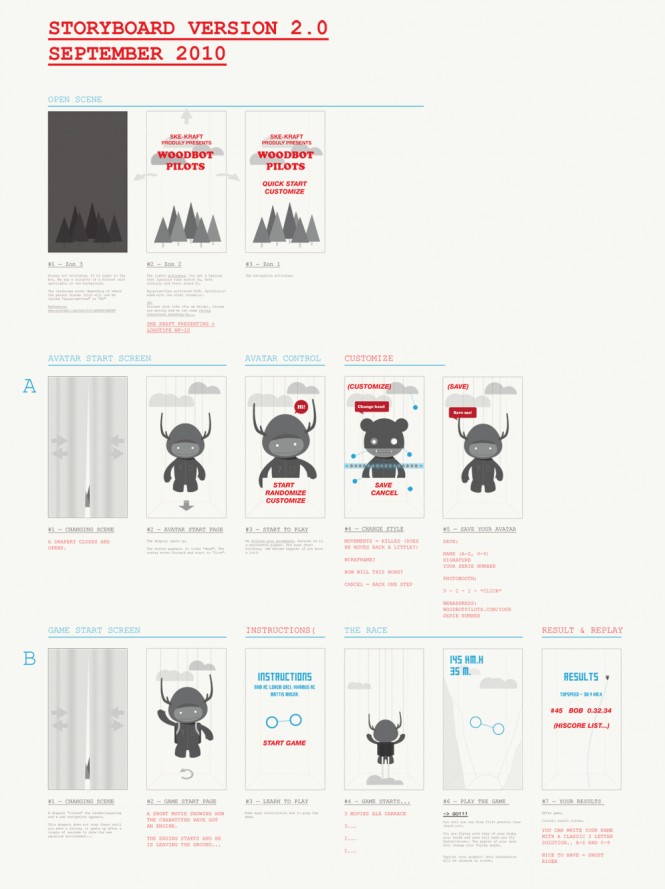 A rough storyboard I did in Illustrator to show the flow. The content of the installation is pretty simple. You can choose between two parts; GAME or DESIGN. The game is a simple race game where you will have your body as controller (thanks to the 3D cam); you turn your body and arms to left and right to steer and you change the speed with your hands. The closer you have your hands the more speed you will get. The design/customize part is where you change your character look.
The 3D camera will make so character will follow your moves in the customize part, as an marionette puppet. Above; some pictures from one of the first concept movies from Mathias Lindgren, made before we started to work with environment. The other pictures is showing the "aquarium" idea, how the 3D camera will create a fake 3D environment with help of body tracking.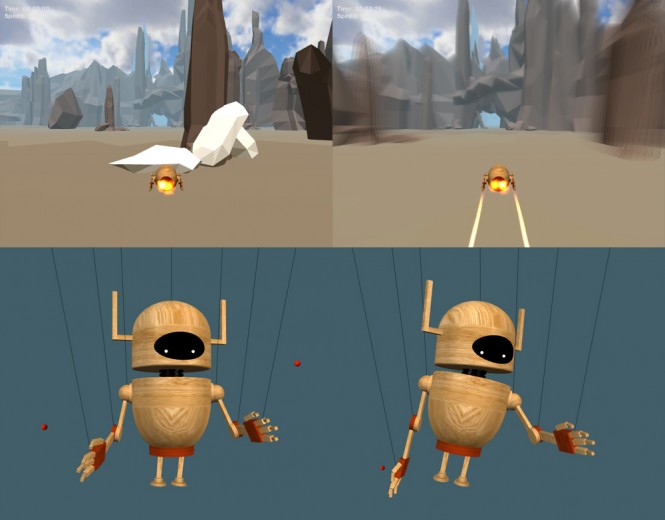 Some first pictures from Unity 3D (which will be our technique platform) with programmer graphics. We have Bartek Drozdz, Everyday3D, sitting at our office helping us out in developing this. We choose Unity because it's a very powerful 3D technique that would match our needs very well. It is also perfect if you want to move on into iPhone/Android or iPad later on when these devices can read Unity.
I wanted to get some retro style to the whole experience because of all modern technique that is involved. When Unity also works better with low polygon graphics it felt totally right to make the whole environment in a sharp-cornered way. We will unfortunately not get the finish we have in these pictures in Unity, but we will do our best to get as close as possible.
Some first ideas around track design. This is some sort of a "map" we will have in mind when we will build it in Unity 3D.