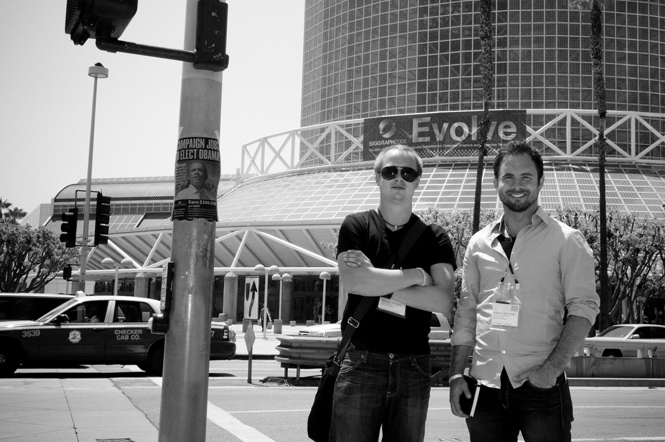 Mathias Lindgren and I went to Los Angeles and Siggraph 2008 (short for Special Interest Group on GRAPHics and Interactive Techniques) to check out the worlds leading computer graphics (CG) conference. As an Art Director I think it is very important to know what is going on out there, and Mathias, who are our 3D artist, to find new techniques and methods. Great inspiration when you need to find cutting edge solutions for different projects!
One of the best speakers was Tippet Studios who talked about how they did "Cloverfield". We was amazed by their engagement and how they have used their creativity in the technical level. We also saw lot of great Behind-The-Scene speakers showing stuff from movies like "The Mummy", "Indiana Jones, "The Hulk", "Speed Racer", "Iron Man", "Narnia", "Wall-E", The X-Files_ I Want to Belive" and "The Golden Compass".
Another great speaker was Ed Catmull, CEO at Pixar & Disney, who talked about how they work and thinks at his company. He also talked about the importance of the employees engagement in everything they do. How important it is to say what they think! I really liked his ideas! They are lucky to have a CEO at company with that caliber.