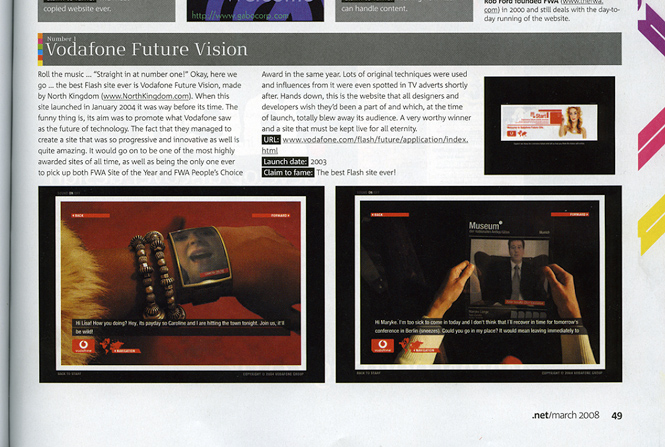 .net magazine (one of the UK's leading magazine for web designers and developers) and Rob Ford (from one of the worlds biggest flashcommunity; FWA) have gone through the best websites since 1997 to make a top 20.
"When the first version of Flash was launched in 1996, little did we know how it would revolutionise website design over the ensuing decade. The FWA's Rob Ford counts down the Top 20 Flash sites of all time".
Rob Ford; "Through my work at leading web award site FWA I've pre-screened over 200,000 Flash websites over the years, and seen both the best of the best and the worst of the worst." "Please note that some of these sites are old now and may seem very dated, but in their heyday they were making people's jaws."
#1. Vodafone Future Vision.
"Roll the music ... "Straight in at number one!" Okay, here we go ... the best Flash site ever is Vodafone Future Vision, made by North Kingdom (www.NorthKingdom.com). When this site launched in January 2004 it was way before its time. The funny thing is, its aim was to promote what Vodafone saw as the future of technology. The fact that they managed to create a site that was so progressive and innovative as well is quite amazing. It would go on to be one of the most highly awarded sites of all time, as well as being the only one ever to pick up both FWA Site of the Year and FWA People's Choice Award in the same year. Lots of original techniques were used and influences from it were even spotted in TV adverts shortly after. Hands down, this is the website that all designers and developers wish they'd been a part of and which, at the time of launch, totally blew away its audience. A very worthy winner and a site that must be kept live for all eternity.
Launch date: 2003
Claim to fame: The best Flash site ever!"
We was very amazed and happy when we also saw another site from North Kingdom on the top 10:
#5. Get The Glass!
"North Kingdom is one of my top three favourite agencies and this site, which promotes milk, is a great example of why. When I first saw it, the hairs on the back of my neck stood up. I thought to myself that this was the best site I'd seen since… well, the one you'll see in a minute at number one (no peeking!). The site is based on a board game that you have to play to help the milk-deprived Adachi family break into Fort Fridge to get the Glass. Roll the dice and experience some of the highest quality production, built from the ground up, that you'll ever see. Oh ... make sure that you don't get caught by the cops and end up in Milkatraz!
Launch date: 2007
Claim to fame: Taking production levels to new heights."
I was also really glad to see my old favorite Gabocorp from 1997. It was that website that make me to chose the web industry before the advertising industry (which was my big plan). And yeah, Gabocorp has never been a strong design site, but in my eyes (and many others) the first site that actually showed what internet would become to be.