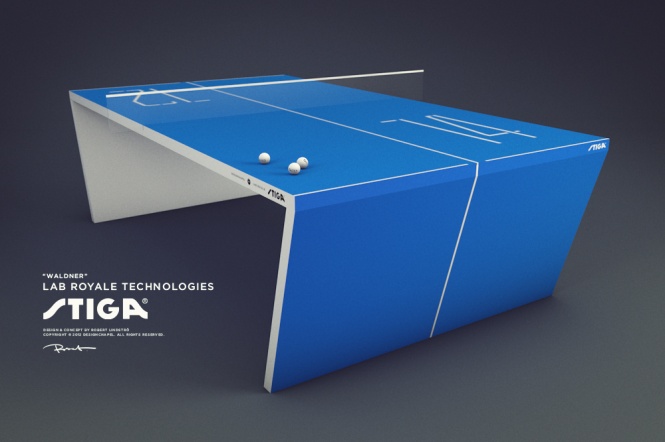 "Waldner" – the next generation ping pong table, is made with an advanced computer system integration. The table has a multi-touch surface, which responds to human touch and real world objects, like ping-pong balls. The table is also equipped with Siri voice recognition that monitors the game along with a Mac Pro 12-core computer. That means the table is very intelligent; it sees, feels and hears the game. You can even discuss a ball with it to improve your ping pong skills or argue about a point.
Under the surface we find two 2.4GHz Quad-Core Intel Xeon E5620 "Westmere" processors and an ATI Radeon HD 5870 graphic cards, a Wi-Fi connection and 12 Bose micro speakers.
The table is 2.74 m long, 1.52 m wide, 76 cm high and 5 cm thick. The surface, which is a huge screen, is made of soft acrylic that gives the correct smooth, low-friction coating. The screen is supported Apple's new HiDPI, which gives a resolution of 2880 x 1800 pixel.
The "net" is a touch-sensitive screen from Samsung. With embedded touch sensors it shows information from balls taken in net.
After and during the game, all kind of statistics can be found on the table. Players can for example compare the balls hit areas (where each hit have been visualized by a circle and contains information like speed and trajectory. All data is stored and can be visualized as real time 3D on devices as iPad and iPhones
The tables' interface activates with a simple two-finger scroll. During game the scores are showed on the surface and changes automatically via a collaboration of the tables sensors, Siri and the players voice. Yes, you can even argue with Siri about a ball and if you not are coming along with the referee; change the score with a swipe.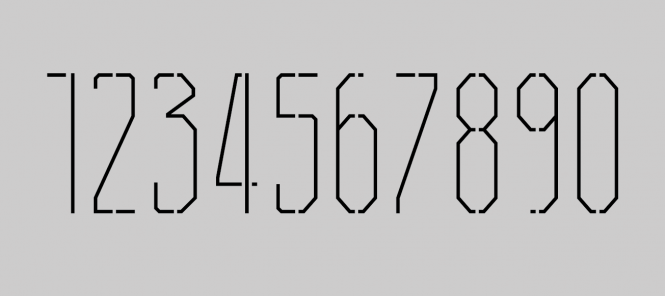 I wanted to have clean, thin and straight digits that come along with the rest of the design. Therefore I made these digits in Illustrator. If you like them and you need some digits, feel free to use them.
Digits Waldner DC — Download Illustration file (.zip)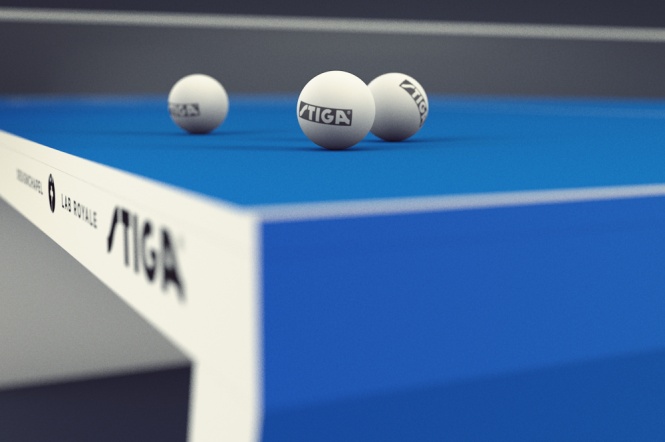 __________________
Background information — I have always been interested of product design and new technology, and specially the combination of these two. It's very inspiring to think about what today's ever-accelerating technology will impact on simple products we have today, as a ping pong table.
I made this concept because I'm love design. I want to get into product design and because I'm learning Cinema 4D. I'm learning it because I think it's difficult without any 3D knowledge at all for a digital art & design director today plus it is really fun! To have something interesting to create is a great way to learn a program. Therefore, "Waldner" have been a perfect project for me; a table tennis table with new intelligent (and hopefully upcoming) technology. Of course, this table will be to expensive to put in production today, but I think we will soon will start to see these kind of products.
About the images so have I played around with the new depth of field in C4D R13 and its new Physical render. The model is very basic but it still gave me lot of training, specially regarding light, textures and cameras. Most of the stuff did I pick up at Greyscalegorilla.
Why STIGA and Waldner? Well, STIGA is a Swedish brand first of all, and when I grew up we always had a STIGA in our basement. And it has a pretty cool retro logotype that made a nice contrast to the very modern table. Jan-Ove Waldner is known as "the Mozart of table tennis" and is a legend in his native Sweden as well as in China. He is one of our biggest sport profiles and he has always been sponsored by STIGA.
Thanks Kalle Gadd for brainstorming! If anyone is interesting in the concept and design, don't hesitate to contact me. Who knows, maybe we will see this one in real life one day?